EDIT MAIN
Slate Valley COVID-19 Information
---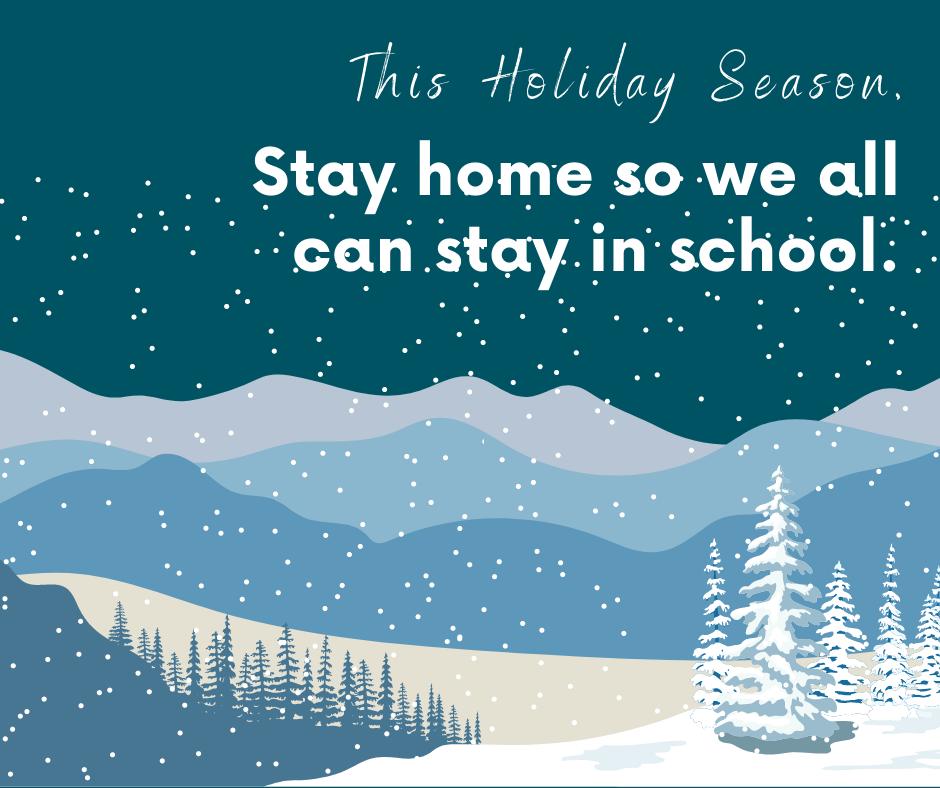 The 2020 holiday/winter break will be different for most of us, and we need to adjust. Family traditions that brought us together in the past may need be adapted to keep people safe this year. We can still capture the spirit of the holidays if we get creative. There are so many ways to express love, gratitude and generosity that won't put your family or others at risk of getting sick. This is disappointing, but you can work to manage expectations ahead of time. Talk with your family about your time together and find ways to safely celebrate. With an open mind and a flexible plan, we will get through to the other side of this pandemic.
You can find more information on the Health Department's website.
---

Vermont Phone Lines for Mental Health Support
Recognizing that there are multiple phone resources for Vermonters experiencing a mental health crisis, VCP, COVID Support VT and Pathways put together this resource. There is no wrong door and we are all committed to ensuing that Vermonters receive a welcoming response whomever they call. A link to national resources is below.
| | | | | |
| --- | --- | --- | --- | --- |
| Name | Number | Hours of Operation | Types of Support Provided | A Typical Call |
| Designated Agency Mental Health Crisis Lines | Varies by region: numbers available here. | 24/7 | Crisis clinicians evaluate individuals at imminent risk and refer to higher level services, as well as provide crisis stabilization to prevent needing higher levels of care. | -Caller is concerned about themselves or a family member with suicidal thoughts/actions |
| Pathways Vermont Support Line | 833-VT-TALKS (833-888-2557) - phone/text | 24/7 | Peer operators offer a listening ear for any identified need, crisis or not. Not limited by time or number of calls/day. No mental health screening. | -Caller wants to vent about a challenging relationship-Caller is exploring their gender identity but not ready to talk with friends/family |
| COVID Support VT | 2-1-1, option #2 | Mon-Fri, 8am-8pm | Counselors provide emotional supportand connections to resources and treatment available in the caller's community. Weekly Virtual Wellness Groups offered Tuesdays, 1pm and 5pm, as well as self-help tips via website. | -Caller needs emotional support related to the pandemic- Caller needs help navigating community resources |
All options are free and confidential, and you will receive support at any number you call.
Want something different? Find more national hotline resources here, or text "VT" to 741741 for Vermont Crisis Text Line.
---
Travel Map Update-11-10-20
Due to the rising COVID case counts in the Northeast effective - November 10, 2020, the State of Vermont has suspended its leisure travel map and implemented a mandatory quarantine for anyone returning or traveling to Vermont.
For more information: https://accd.vermont.gov/covid-19/restart/cross-state-travel
---
Stage III Reopening Letter: https://5il.co/laj5
Slate Valley Resources
Other Resources
Slate Valley Athletics
High School
Middle School
Vermont Agency of Education Guidance
SUPERINTENDENT UPDATES
Reopening Slate Valley Schools (VIDEO)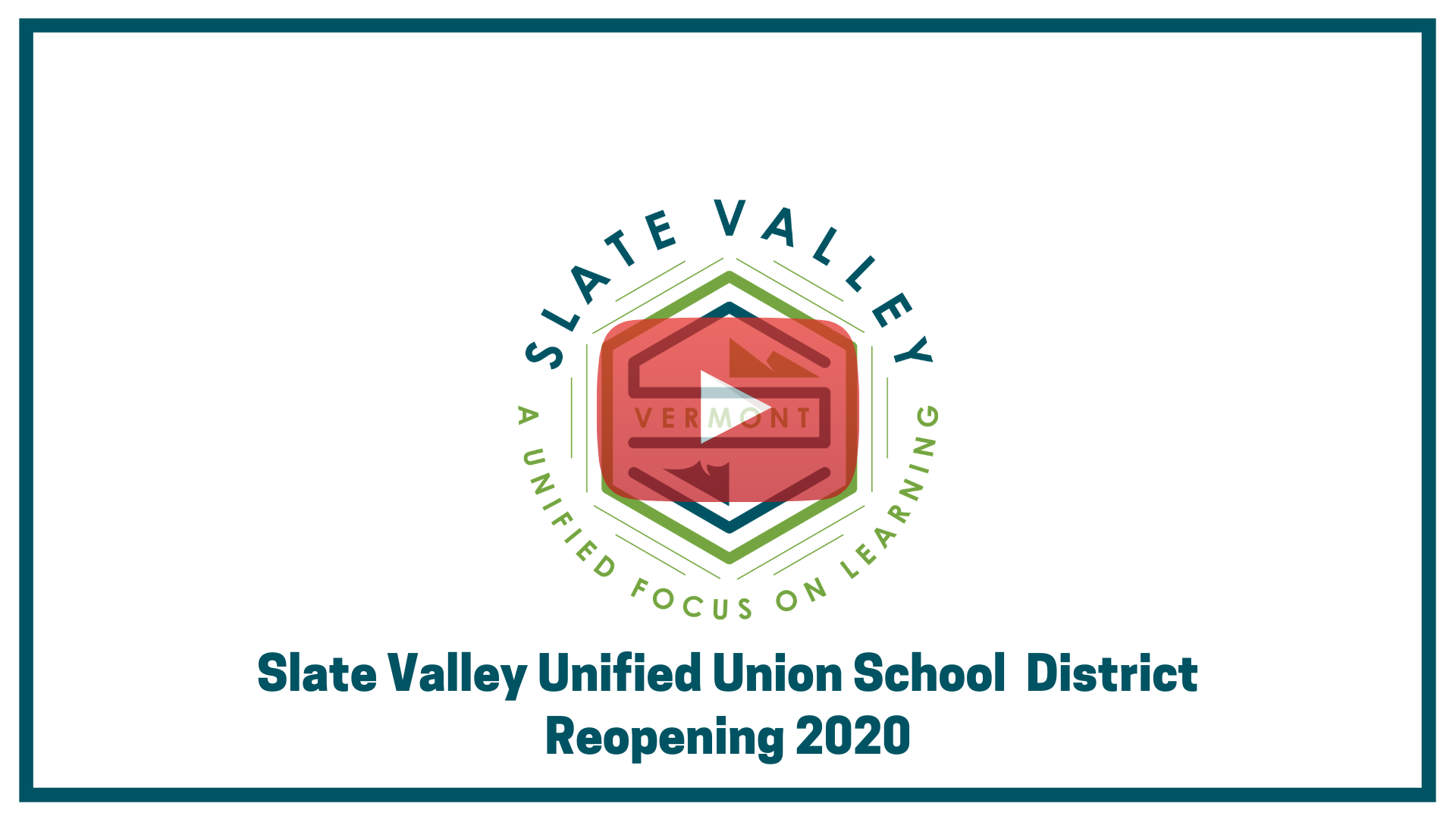 Timeline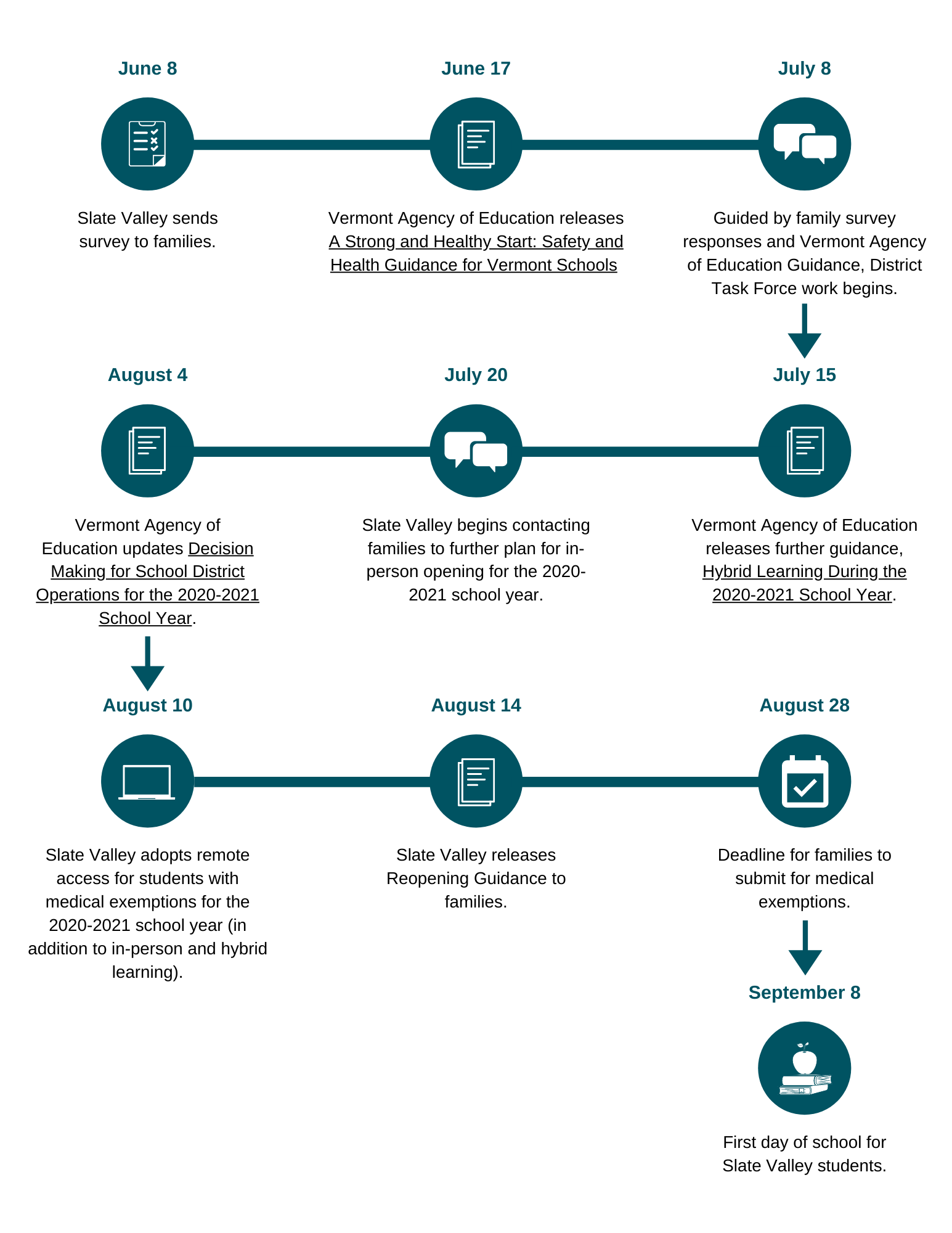 Important Websites
Local Community Resources
Vermont Public Wi-Fi Hot Spots
Interactive Map
Additional Connectivity Resources
The map will be updated as new information becomes available. Vermonters are encouraged to send information about Wi-Fi spots to [email protected]

Vermont Department of Public Service
The Department of Public Service is collecting information and resources on the availability of Internet and telecommunications services during the COVID-19 emergency. This webpage will include information about what cable, telephone, and mobile carriers are doing to assist consumers and places where consumers can find internet access and be updated as new information becomes available.

The PSD has developed a map of libraries, local and state buildings, and schools offering free, open Wi-Fi internet access.
The following resources may be helpful as you discuss COVID-19 with children:
Mental Health Resources
Student, Parent, Staff Counseling Resources
In this time of crisis of many unknowns and uncertainty, it can lead to an individual's mental health faltering. When people succumb to stress they become sick physically and need to seek medical help. Similarly, there are times in life when we ALL experience states of mental health stress that requires supports and strategies.
Asking for help is an act of courage and a sign of strength, not a weakness. We want students and families to know that reaching out for help is a healthy response. Included in these resources is information to educate people on the warning signs and risk factors for suicidal behavior. There are suggestions for actions to take if you or a loved one is in a crisis situation. A list of local resource numbers is available. School clinicians and counselors are still available to provide support and answer any questions that may arise.
Warning Signs
What You Can Do - Responding to Suicidal Behavior
| | | | | |
| --- | --- | --- | --- | --- |
| | | | | |