EDIT MAIN
School Budget Re-Vote Tuesday June 9
This vote is for the FY 21 (2020-2021 School Year) Operating Budget.
(Virtual) Informational Hearing
June 8, 2020 at 6:30 - Please connect virtually by going to meet.google.com/iig-prfw-ngu or by calling (‪US‬) ‪+1 856-485-0395‬ PIN: ‪415 992 197#‬.
Article for Budget
Shall the voters of the School District approve the school board to expend $26,623,041, which is the amount the school board has determined to be necessary for the ensuing fiscal year? It is estimated that this proposed budget, if approved, will result in education spending of $16,555.28 per equalized pupil. This projected spending per equalized pupil is 2.99% higher than spending for the current year.
Slate Valley Unified Union School District FY21 Budget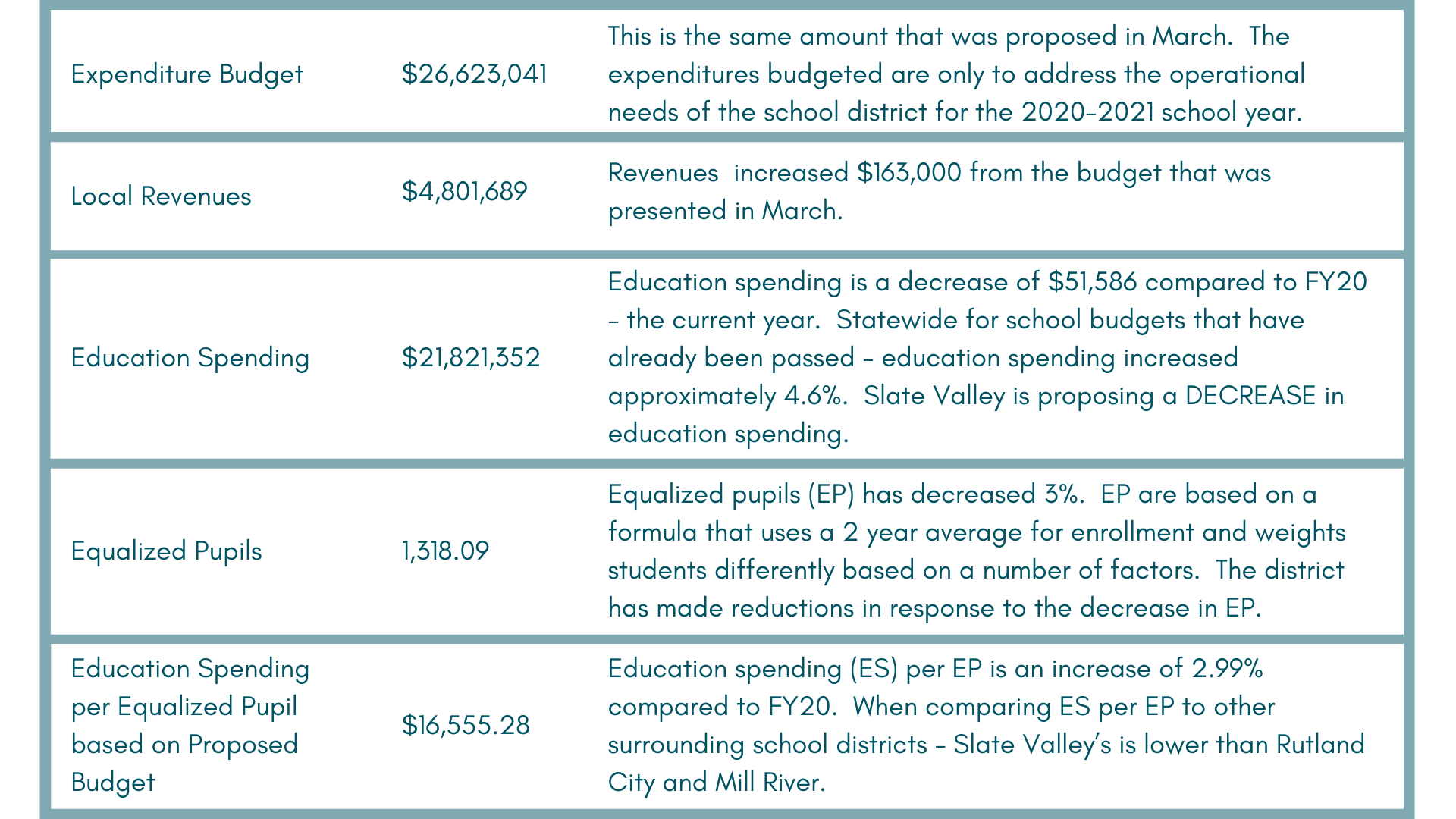 Note: The proposed budget includes ONLY the expenses necessary to address the operational needs of Slate Valley's schools in their current configuration for the next school year.
Tax Rate Considerations
FY21 Property Tax Yield Proposed by House Ways & Means (HWM) on 5/14/2020 was $10,998
Education spending for districts with approved budgets for FY21 came in with an average Education Spending per Equalized Pupil increase of about 4.6%. Slate Valley's proposed budget results in a 2.99% increase.
Based on 92 school budgets that passed in March, the average spending per Equalized Pupil is $16,991. Slate Valley's Education Spending per Equalized Pupil is $16,555.
The Vermont Legislature sets the yield which impacts education property tax rates.
The HWM committee wants to send a message when it sets the yield for FY21 that the issues with the Education Fund will not be borne by taxpayers.
Merger Incentives
SVUUSD FY21 merger incentive is $.04
All taxpayers will benefit from the merger incentive.
Tax Rate Estimate before Town Common Level of Appraisal is Applied
FY21 SVUUSD Estimated Equalized Tax Rate: $1.4653
FY20 SVUUSD Equalized Tax Rate: $1.4480
Change in Equalized Tax Rate: $0.0173