EDIT MAIN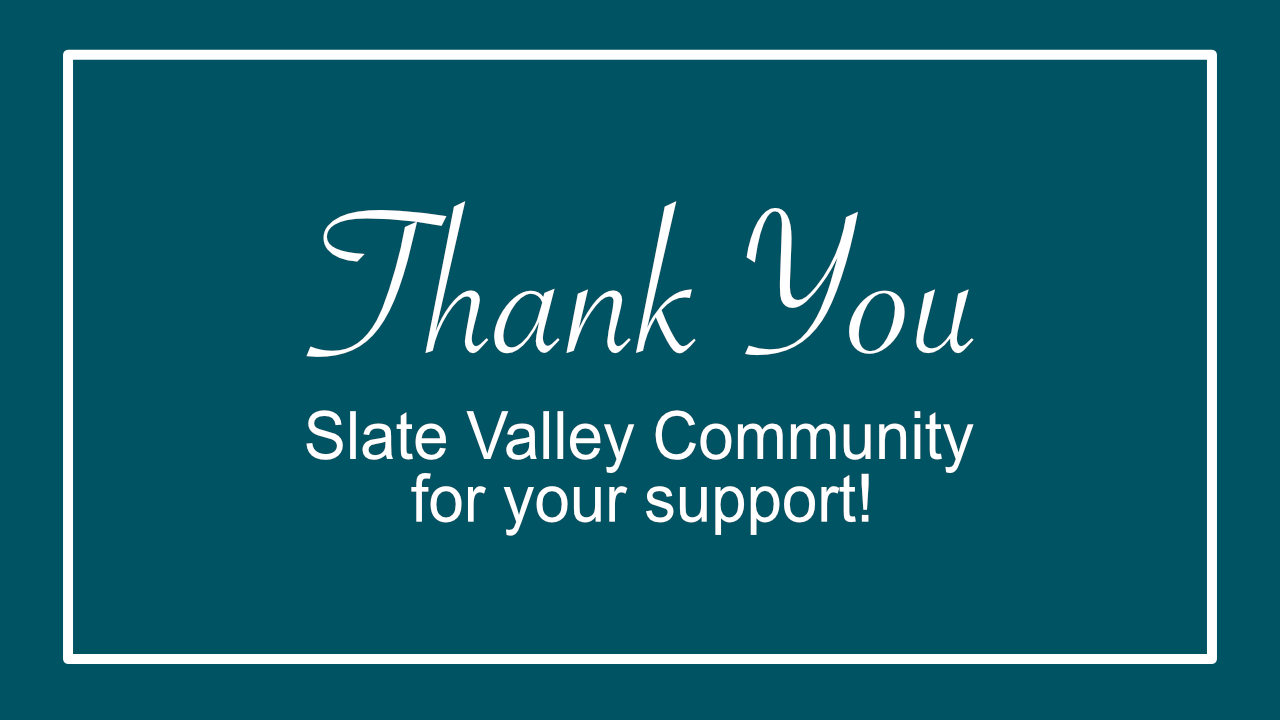 Town Meeting Day Results:
Budget: Yes- 868 No- 810
Transfer of $882,500 to the Reserve: Yes- 1028 No-565
School Board Members elected (all incumbents):
Tara Buxton
Pati Beaumont-Stannard
Peter Stone
Rebecca Spears
Toni Lobdell
Christine Pouliot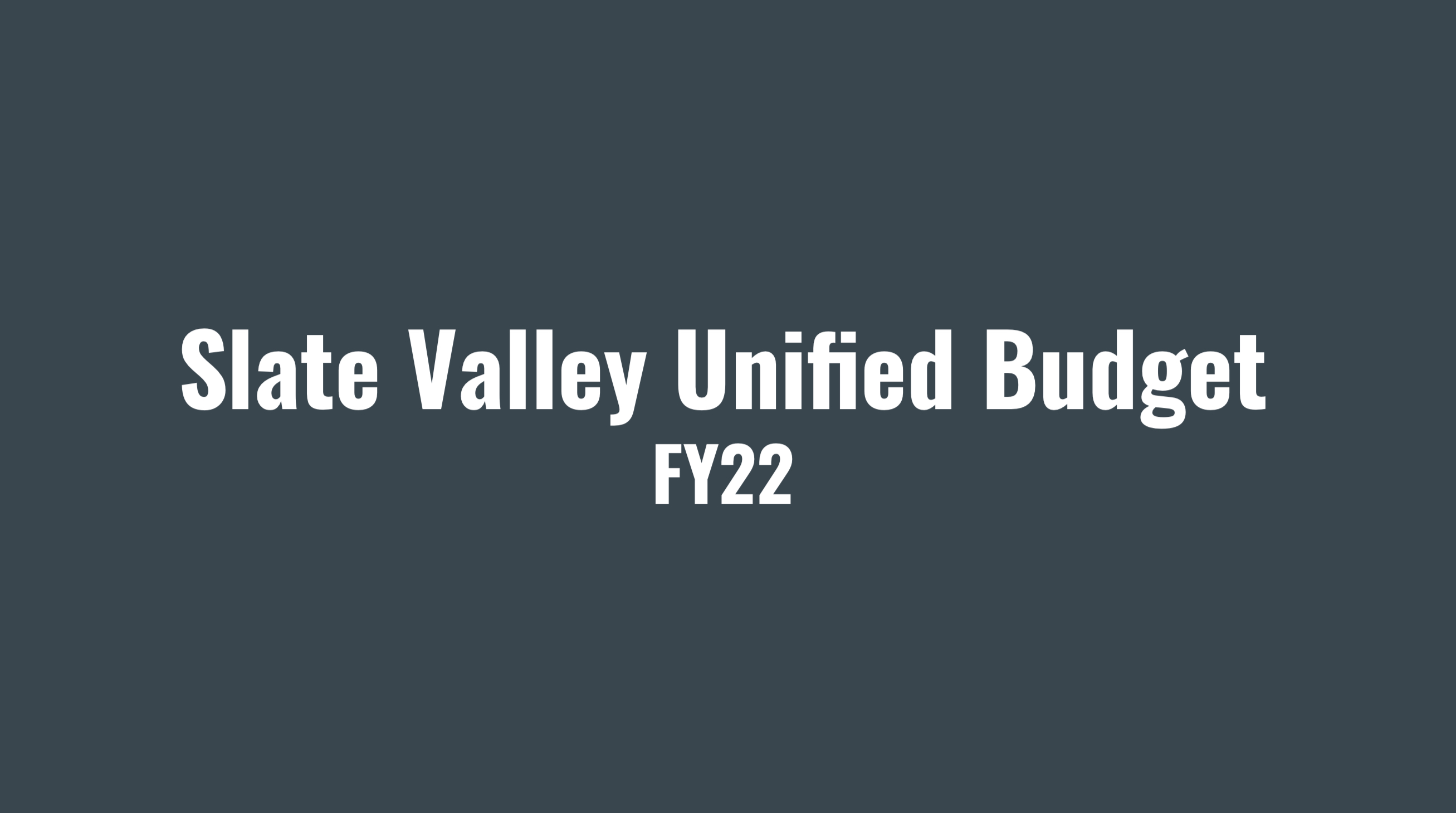 Please view the following presentation on the FY22 budget PowerPoint presentation here.
FY22 Proposed Budget Expenditures - Detail
---
Frequently Asked Questions
Slate Valley Budget FY22
Last updated February 8, 2021
Why can't we close schools now?
In 2017 Slate Valley voters approved articles of agreement related to the merger. The merger was not fully operational until the 2018-2019 school year. Article 8 Section F states:
Closure of K-8 Schools. The Union School District shall not close any schools within its boundaries during the first four years it is fully operational and providing educational services. Thereafter, a vote of 75% or more of the Board of Directors and a positive vote of the municipality by Australian Ballot in which the school is located, shall be required to approve the closure of a school. Prior to holding a vote on whether to close a school the Board shall hold three (3) public hearings regarding the school's closure. At least one (1) of the public hearings shall be held in the community in which the school is located. If after conducting public hearings, the Board of Directors intends to vote on whether to close a school, it shall give public notice of its intent to hold a vote on whether to close a school, stating the reason for the closure, at least ten days prior to the vote.
*****In our current structure there are not many more efficiencies to be gained.
---
What efficiencies have been gained by the merger?
Over the past 3 years (FY19, FY20), we have eliminated 20.5 staff/administrative positions. Additionally, we have gained efficiencies in Building/Grounds, Technology, Nursing, Accounting, and sharing of instructional staff across buildings. We have been able to share programming and alternative classroom options to students throughout the district. This reduced the number of students that needed to be served outside of the district to obtain their special education programming in the least restrictive environment.
---
What are some of the unfunded state mandates?
Act 77
Proficiency Based Learning
Personalized Learning

Flexible Pathways
Work Based Learning
Hazing, Harassment and Bullying
Investigations
Trainings
Consultation with attorneys
Act 173
District Educational Support Team restructure
Universal Screeners
Multi-tiered Systems of Support-SEL, ELA, Math
Intervention Programs/positions
Act 166- Universal Pre-K
As of 9/1/2018, districts must offer or pay for 10 hours of publicly funded universal preschool education for all 3-5 year olds.
Special Education
Regulations and rules for the provision of special education were signed into federal law in 1975; special education has never been fully funded. Currently, we receive approximately 56% reimbursement for the provision of special education services.
Title IX Investigations
---
Why does Slate Valley have such a large surplus heading into the FY22 budget?
On March 17, 2020 Governor Scott declared that all school buildings should be closed to prevent the spread of the COVID 19 virus and all school districts should commence with learning remotely. On March 17th there was still a third of the school days left in the 2019-2020 school year. With the building shut down many activities for which the district would have incurred costs ceased which resulted in an unusual general fund surplus. The Board had been consistently using general fund surpluses to reduce Slate Valley's education spending. In this year's budget (FY21) $1,019,000 of surplus was used. At the end of fiscal year 2020 (6/30/2020) the district has a general fund surplus of $2.6 million. The Board will be allocating $1,799,336 of the surplus to the FY22 budget and will be asking for voter approval to transfer $882,500 to the Capital Improvements and Repairs Reserve Fund. If this transfer is approved the Capital Reserve Fund will have a balance of $1,424,000 of which $411,500 is intended to be used to make much needed repairs and maintenance at FHU. The balance in the Capital Reserve Fund is available to address the needs of Slate Valley's remaining 5 school buildings.
---
What is the status of the bond that was presented in March of 2020?
A bond is no longer under consideration by the board at the present time. We are expecting that due to the current crisis the legislature may take action to place a moratorium on bond votes unless there is a safety issue for the 2020-2021 school year.
A bond requires the approval of the electorate. If a bond was being proposed there would be a separate question on the warning for the school district to obtain approval for a bond. Since the bond did not pass in March there has not been a question on the warning for a bond.
---
How has the school district spent the federal funds allocated to Slate Valley due to the Pandemic?
Please see the document here for information about federal Coronavirus Relief Act Funds available to Slate Valley and the way in which they are being used.
---
What is the health insurance increase and why can't we negotiate a lower cost?
Act 11 of 2018 created the Commission on Public School Employee Health Benefits. The Commission was mandated to determine the relative shares of health insurance premiums and out-of- pocket expenses that should be paid by Vermont districts and their employees. This means that negotiations related to health insurance benefits are no longer conducted at the district level. The Commission is made up of employee and employer representatives. The health insurance premium increase for the plan that most employees participate in for FY21 is 12.9%. There are 3 other plans with increases that ranged from 13.7% to 14.7%.
---
What is Provision 2 and what does it cost?
Slate Valley chose to start participating in Provision 2 last fall. Provision 2 is an option for schools participating in the National School Lunch and School Breakfast Programs to provide free meals to students. Our program provides 1 free breakfast and 1 free lunch to all children who choose to take part in the program.
Provision 2 increases student participation in school meals.
Children who eat school meals have more nutritious diets than children who don't, regardless of income level.
Better nutrition in children leads to improved academic performance, behavior and learning environments.
Providing school meals at no charge promotes the value of good nutrition to all students.
Reasons why:
Reduce stigma — When all children are offered a meal at no charge, more children participate and stigma that the school meal programs are only for low-income children is eliminated.
We had a large number of students incurring debt with their parents unable to pay their bills.
https://frac.org/wp-content/uploads/provision2.pdf
Each breakfast costs the district $1.09 and each lunch $1.09. Depending on the number of students that take meals we estimated that Provision 2 could cost the district about $200,000 prior to the issues created by COVID. At this time it is hard to say whether we will be providing more or less meals to students. We currently have $200,000 in the budget.
---
What is in the budget to address building and grounds issues?
The proposed budget includes $600,000 for a portion of the renovations to the High School for the consolidation of grades 7 and 8 to the High School campus. The budget also includes funding for regular maintenance items throughout the year for the 6 buildings. The School Board and Administration continue to prioritize items that directly address core infrastructure needs of the school buildings.
---
What is the plan for funding the change to a District Middle School in 2022-2023?
Estimated Project Cost at this time
$2,344,000
Where will the funds come from?
Capital Project Fund currently available for FHU projects
$411,500
Additional amount needed from reserve for FHU and middle school project
$732,500
FY22 General Fund budget
$600,000
FY23 General Fund budget
$600,000
---
How does the FY22 budget compare to previous years and what reductions have been made?
The FY22 budget is a decrease of $122,201 or 0.46% less compared to the voter approved FY21 budget and a $213,253 decrease or 0.80% less than the FY20 budget of two years ago. Four years ago (FY18) was the last year before the districts started merging. When the expenditure budgets for all the districts plus the supervisory union (net of assessments) are added together the total expenditures is $25,626,285. There has been an increase of $654,100 over 4 years when compared to the FY22 currently proposed budget.
The FY22 budget includes a net reduction of 7.5 full time equivalent staff (fte). Over the last 4 years staff have reduced by 22.65 fte.
---
What schools does the budget support?
Benson Village School
Castleton Elementary School
Castleton Village School
Fair Haven Grade School
Fair Haven Union High School
Orwell Village School
Two towns that are part of Slate Valley do not have schools located within their towns:
---
How does Slate Valley's spending compare to surrounding districts?
The best way to compare Slate Valley to other school districts is by comparing education spending per equalized pupil. The list below shows the proposed education spending per equalized pupil for FY22 for the surrounding school districts:
| | |
| --- | --- |
| Addison Central UUSD | $18,936 |
| Mill River UUSD | $17,543 |
| Barstow UUSD | $17,144 |
| Rutland City SD | $16,956 |
| Rutland Town SD | $16,730 |
| Quarry Valley UUSD | $16,530 |
| Slate Valley UUSD | $16,483 |
| Otter Valley UUSD | $15,526 |
---
What happens when a budget does not pass? How does the district continue to operate?
School districts must continue to vote until a budget is passed. The State cannot impose a budget. This past winter the legislature was considering legislation that might have imposed the last voter approved budget for districts that did not have a budget when schools closed in March. The legislation did not end up going anywhere.
If a budget has not been adopted by the start of the school year the school must still open. Categorical grants from the State will still be paid to the school district. A portion of the payments due the district from the education fund will also be paid. If additional funding is needed the school can borrow up to 87% of the most recently approved budget. At this time Slate Valley has a line of credit with People's United Bank in the amount of $2.5 million that bears an interest rate of 1.75%. The district has not had to draw on the line yet, but typically does in late August around the time that the first payroll for school year employees is processed.
How does the staff and administrative ratio compare to surrounding districts and the state?
ARSU/SV
VT
ACSD
BRSU
Greater Rutland
Mill River
Rutland City
Rutland Northeast
SY1819
SY1718
SY1819
SY1718
SY1819
SY1718
SY1819
SY1718
SY1819
SY1718
SY1819
SY1718
SY1819
SY1718
SY1819
SY1718
Student:Teacher
9.4
9.4
10.4
10.5
10.9
10.8
8.9
9.6
9.6
8.9
10.5
10.3
10.6
10.8
11.0
10.7
Teacher:Administrator
7.9
8.2
9.2
9.5
9.9
10.4
8.2
8.2
7.4
10.0
6.8
6.3
8.0
8.0
12.4
11.1
Student:Administrator
73.7
78.9
95.6
99.3
107.8
111.7
72.9
78.8
71.1
89.0
71.2
65.1
85.4
86.8
137.
117.9
****ARSU/SV data is premerger and since then 1 administrative position has been reduced. Please note that many districts may classify administrative positions differently.
---
Why are schools faced with an increasing number of social service programs?
Social emotional learning has become a growing focus of schools throughout the last decade. Social and emotional learning (SEL) is the process through which children and adults understand and manage emotions, set and achieve positive goals, feel and show empathy for others, establish and maintain positive relationships, and make responsible decisions. It includes direct instruction, interventions, programming and supports, followed up by practice of these skills. These are implemented to ensure that all students get what they need to access their education and progress academically, socially and behaviorally, so that they can go on to become responsible and independent adults and citizens.
The communities in which we live are very different now than they were in previous decades and we face different challenges. Rutland County no longer has a strong and stable employment base. Families face increased economic struggle and instability. Often, families are blended, more complex, more transient and changeable. Community organizations (Church, Grange, Lions, Masons, Eastern Star, etc.) are a smaller part of our community systems of support for families. Families move more, providing less local and familial support in some cases. Drug use and addiction has also increased which creates more stress and challenges for families. Our part of Rutland County has experienced significant impacts compounded by our geographical location. We have multiple sources of data that tell this story.
Society and communities have changed and no longer have the support structures in place which made it possible for schools to focus narrowly on the three R's. Schools have had to change accordingly. The school is now the primary place for children to learn what they need to know to grow up to be competent community members, employees, and family members. Schools are now at the heart of our communities and have stepped in to fill the gaps of these many changes in society. There are no entitlements for children to access community mental health supports. If schools step out, those community supports are no longer there to pick up the pieces.
Given the COVID-19 pandemic, students will be coming back to school with unprecedented levels of social, emotional and mental health challenges and needs. Unless they're addressed upfront, students can't learn. If we want schools to produce competent, responsible, compassionate, functioning members of society, SEL supports are critical to making that happen. Ultimately, providing these supports makes it possible for children to learn and thrive and is more cost-effective in the long run for both the school and the larger community.
---
What is the district Vision and Mission?
District Mission: We are dedicated to the academic excellence of every student by empowering them with the means for the successful completion of standards, and by challenging them to be productive members of our global society. We are committed to a comprehensive system of support to assure that each student has the opportunity to develop the skills and talents necessary for college and career readiness.
District Vision: All students are engaged in rigorous, authentic, experiential, individualized learning that is supported or accelerated to ensure that they meet or exceed standards.
Our Students are curious and creative learners who succeed through personal initiative and sustained effort to reach high academic goals. They are critical thinkers and learners who seek knowledge and possess technological competence and collaborative skills. Our students embrace diversity and culture, act responsibly, and contribute to our community.
Our Educators believe in providing for the social, emotional, and academic needs of every child so that they feel connected, safe, and respected. They are committed to offering a challenging and engaging atmosphere in which all members of the school community can learn and grow.
Our Families and Community are integral to the success of our students and schools. Families are active, engaged, and welcomed partners in their child's education. Our community is passionate about equitable educational outcomes for all students.
Our Schools offer an enriched learning environment and a comprehensive system of support to address the needs of the whole child.
We believe:
In providing for the social, emotional and academic needs of every child so that they feel connected, safe, and respected in order to ensure student achievement.
In providing a challenging and engaging atmosphere in which all members of the school community can learn and grow.
In providing opportunities for inquiry, research, global collaboration, and communication.
In providing varied, rich and personalized opportunities for learning.
In providing experiences to develop critical thinking skills that allow students to become engaged participants in their school communities and beyond.
---
Number of students attending Early College, School Choice (attend another high school) and Stafford at the high school level?
Early College: 6
School Choice out 21, School Choice in 5
Stafford Technical Center: 28
How do Slate Valley Central Office salaries compare regionally (FY21 Data)?
Position
District/Supervisory Union
Salary
Director of Finance
Rutland City
$128,750
Rutland Northeast SU
$120,700
Southwest Vermont
$110,000
Bennington Rutland SU
$106,883
Addison Central SU
$106,090
Slate Valley
$105,058
Greater Rutland SU
$100,500
Mill River Union
$94,401
Position
District/Supervisory Union
Salary
Director of Special Services
Addison Central SU
$118,450 *Asst. Super.
Rutland Northeast SU
$117,900
Slate Valley
$115,173
Bennington Rutland SU
$104,000
Rutland City
$102,627
Southwest Vermont
$101,002
Greater Rutland SU
$100,017
Mill River Union
$95,790
Position
District/Supervisory Union
Salary
Director of Curriculum
Rutland City
$137,167 *Asst. Super.
Rutland Northeast SU
$107,200
Addison Central SU
$101,210
Slate Valley
$99,237
Greater Rutland SU
$96,900 *Asst. Super.
Southwest Vermont
$92,700
Mill River Union
$84,872
Position
District/Supervisory Union
Salary
Director of Operations
Southwest Vermont
$103,915
***** SV position is 2 positions in one (technology and building/grounds). No other district has the same position.
Rutland City
$103,174 (Technology)
Greater Rutland SU
$95,605
Slate Valley
$94,237
Mill River Union
$87,418 (Buildings & Grounds)
Rutland Northeast SU
$85,600 (Technology)
Addison Central SU
88,190 (Facilities)
$79,568 (Technology)
Position
District/Supervisory Union
Salary
Superintendent
Rutland City
$161,531
Southwest Vermont
$156,502
Rutland Northeast SU
$149,100
Addison Central SU
$146,423
Slate Valley
$139,387
Greater Rutland
$139,000
Mill River Union
$137,231
Bennington Rutland SU
$135,000
---
What grants funds are available and are we receiving any?
There are a number of federal grants that were made available to school districts to address issues related to the COVID 19 pandemic. The district has applied for and received Coronavirus Relief Funds funds. Please see questions 6 and 7 above.
Coronavirus Aid, Relief and Economic Security (CARES) Act $50 million:
Coronavirus Relief Funds (CRF) will be used for reimbursing eligible costs districts incurred or will incur in FY2020 or FY2021 due to COVID 19.
$6.5 million: For Vermont K-12 schools to improve the heating, ventilation, and air conditioning (HVAC) systems in school buildings in reference to COVID-19-specific guidelines from the U.S. Centers for Disease Control and Prevention (CDC) and the American Society of Heating, Refrigeration, and Air Conditioning Engineers (ASHRAE). The program is being administered by Efficiency Vermont
$1.5 million: For independent schools
$1.0 million: Consulting Services for school districts administered by the VT AOE
$12.0 million: Grant funds for school districts to reimburse for the costs related to food service during the months of July and August
$29.0 million: For school districts to be used to reimburse for eligible costs districts incurred or will incur in FY20 and FY21 related to COVID19. Some of the reimbursement for these funds will reduce the amount of money that comes to school districts from the Education Fund. By doing this the State of VT will remedy some of the Education Fund deficit that could impact schools when formulating their FY22 budget.
Elementary and Secondary School Relief Fund (ESSR) $29 million:
These are also CRF funds that will be administered as a grant program to help K-12 educational entities prevent, prepare, prepare for and respond to the coronavirus pandemic. School districts must apply for these funds. All the funds that school districts receive through this program will reduce the amount of money that comes to school districts from the Education Fund. By doing this the State of VT will remedy some of the Education Fund deficit that could impact schools when formulating their FY22 budget.
---
What is included in the Functional Area Code on the flyer that went out on the budget, on the line called 2410 School Administration and what is the explanation for the increase?
School Administration includes all the costs related to school district administrative services. The costs for 19 staff members are budgeted for here, and includes all the Principals and the school clerical staff. This line accounts for changes in wages and benefits as well as changes in costs related to each building's office such as telephone, postage and supplies. The increase is primarily attributable to increases in wages and benefits with additional increases and decreases in some of the non-employee related lines.