EDIT MAIN
Slate Valley COVID-19 Updates, Information, and Resources
---
Vaccine Clinic at Fair Haven Union High School
Letter to Families (See PDF)
May 13, 2021
Dear Slate Valley Families:
In coordination with the Vermont Department of Health, Vermont Emergency Management, and the Agency of Education, Slate Valley Unified School District has scheduled an upcoming vaccination clinic at Fair Haven Union High School. This clinic will serve students ages 12 and up in our district, as well as students in other nearby public and independent schools and members of our community – including parents!
We especially look forward to providing vaccines for our 12-15 year-old students, who are newly eligible to receive the Pfizer COVID-19 vaccine. The Health Department and Vermont pediatricians have put together this two-page information sheet on the Pfizer COVID-19 vaccine and why it is safe and effective for this age group.
Please see details about the vaccination clinic below. If you have any questions, please contact Deb Hanson, RN at [email protected] We are eager to support you however we can to help get our students vaccinated for their health and the health of our community.
Sincerely,
Brooke Olsen-Farrell
Superintendent
---
Clinic Details
Clinic Location: Fair Haven Union High School
Clinic Street Address: 33 Mechanic St, Fair Haven, VT
Clinic Date: Wednesday, May 26th
Clinic Hours: 9:30 a.m. - 3:30 p.m.
Registration
The best way to reserve a dose of vaccine for your child is to register online. As part of registering online, you will be asked to provide your consent as their parent/guardian for your child to receive the vaccine. More information on registering online is available on the Health Department website.
Anyone who is unable to make their appointment online, needs help, or who wants to speak with someone in a language other than English can call (855) 722-7878 and press 1 for interpretation services, Monday through Friday from 8:15 a.m. – 5:30 p.m., Saturday and Sunday from 10 a.m. – 3 p.m. This phone line is TTY enabled.
If your student attends Fair Haven Union High School and you register for an appointment during the school day, your child will be able to attend their vaccine appointment while at school. You do not need to be present, but you are welcome to attend with them if that would be helpful. We also encourage you to make an appointment for yourself if you are not yet vaccinated!
If your child attends the clinic without you, they will be asked to confirm the answers to health questions that were part of the registration process, such as whether or not they:
Have any history of allergic reaction to vaccines or injectable therapies
Are currently sick with COVID-19
Have recently had any other vaccines
Have a bleeding disorder or are taking blood thinners
Are breastfeeding or lactating
Walk-Ins
The best way to ensure a dose is available for your child is to register in advance, but depending on how many registrations are made, we expect there to be a limited number of walk-in doses available. If your child takes advantage of a walk-in appointment, we will need to get your consent for them to be vaccinated in one of three ways:
You can complete and sign the Vaccine Consent Form.
You can come to the clinic and give your consent in person.
A member of the vaccine clinic staff or the school nurse can call you on the phone to talk to you and document your consent.
Other Options to Get Vaccinated
If our school clinic is not a convenient time for your family, there are many options statewide to get vaccinated. Your 12-15-year-old can register for a vaccine at any community vaccine clinic providing the Pfizer vaccine that is convenient to you. In addition, pharmacies at Kinney Drugs, CVS, Costco and Hannaford's are now offering appointments for Pfizer vaccine to Vermonters aged 12 and up. Please note that each pharmacy has its own process and requirements for parental consent.
More information: https://www.healthvermont.gov/covid-19/vaccine/about-covid-19-vaccines-vermont
---
Vermont Forward Plan Clarifications to School Sports Guidance
(Released on May 4, 2021)
With changes May 1 in the State's COVID-19 guidance that included advancing to Step 2 of the Vermont Forward Plan, the transition of recreational sports programs to Universal Guidance, and an updated masking policy that requires masks outdoors when you are in a crowd or with other households where you can't maintain a 6-foot distance, there have been a number of questions about how these apply to both recreational and school-based sports programs.
Please review the following clarifications.
For athletes participating in school-based sports:
The most recent version of A Strong and Healthy Year Guidance, published by the Agency of Education states the following: All staff and students are required to wear facial coverings while in the building. They must also wear them when outside of the building if adequate physical distancing of at least six (6) feet cannot be maintained.

Consistent with the Strong and Healthy Year guidance, athletes participating in low contact and no contact school-based spring sports (i.e., tennis, track and field, baseball and softball) are no longer required to wear masks so long as six feet of physical distance can be maintained. Baseball and softball players must wear masks while sitting in the dugout.
Athletes participating in sports involving moderate contact or close proximity (i.e., boys and girls lacrosse, ultimate frisbee) must continue to wear masks at all times during practice and game play.

All athletes must wear masks when being bused to a game or meet, in any indoor setting (i.e., locker room or training room), or participating in team-based meeting with six feet of physical distance cannot be consistently maintained.
For spectators at outdoor school-based or recreational sports events:
Consistent with the Vermont Forward Plan, 300 unvaccinated people, plus any number of vaccinated individuals, can attend outdoor sports events as spectators.

Spectators are not required to wear masks at outdoor sports events so long as six feet of physical distance can be maintained between households.
For spectators at indoor school-based or recreational sports events:
Consistent with the Vermont Forward Plan, one unvaccinated person per 100 square feet up to 150 unvaccinated people (whichever is less), plus any number of vaccinated people, can attend indoor sports events as spectators.

Spectators must wear a mask at all times while attending an indoor sports event.
If an event has no way of determining if an individual is vaccinated, assume all are unvaccinated for capacity limit.
---
Information for Families and Students on Covid-19 from the Vermont Department of Health
(Updated April 28, 2021)
New Travel Guidance
The CDC recommends delaying travel until you are fully vaccinated, especially now, when there are still high levels of spread. But if you do travel, make sure you understand Vermont's new policy. Effective April 9, 2021, unvaccinated Vermonters who have traveled outside the state must be tested within 3 days of returning to Vermont. The test you get must be for a current infection (like a PCR test), except it cannot be an antigen test (also known as a rapid test). You do not need to quarantine while you wait for your test result. But if you have any symptoms, stay home and away from other people. Find free and fast testing near you.
Gathering Guidance
To slow the spread of COVID-19 in Vermont, there are limits on gathering. A household with children is considered an "unvaccinated household." An unvaccinated household may gather with one other unvaccinated household. You can gather with multiple unvaccinated households, as long as you are with only one other household at a time. Learn more about how to gather with other people safely.
COVID-19 Prevention
There will always be some risk of COVID-19 when we leave home, but it is possible to live your life and stay safer. The virus that causes COVID-19 is circulating in Vermont and all around the world and can spread easily among family and friends when they don't know they have it. Please continue to follow the prevention steps to lower your risk of getting or spreading COVID-19. Imagine these steps as layers protecting us from getting and spreading COVID-19, so more layers mean less risk.
1. Keep your social circle small.
2. Stay at least 6 feet apart from people who don't live with you
3. Wear a mask
4. Wash your hands often
5. Spend time outside with friends and family
6. Stay home if you or anyone in your household is sick.
a. Do you wonder if you have allergies or illness? COVID-19 and seasonal allergies share many symptoms, but there are some key differences between the two. For example, COVID-19 can cause fever, which is not a common symptom of seasonal allergies.
b. Because some of the symptoms of COVID-19 and seasonal allergies are similar, it may be difficult to tell the difference between them, and you may need to get a test to confirm your diagnosis.
As more Vermonters get vaccinated, Governor Scott is slowly changing the guidance to allow people to gather and host visitors. On April 6, 2021 he released a reopening guide (The Vermont Forward Plan) to help Vermonters and local businesses see the path for a phased return to unrestricted travel, business operations, and event gatherings. The plan was developed by the Department of Health, the Department of Public Safety, and the Agency of Commerce and Community Development and uses vaccination milestones to ensure a safe easing of personal restrictions and continued reopening of the state's economy.
All Vermonters are encouraged to get the vaccine when it is their turn. At this time, Education, Health Care, Sports/Organized Sports and Youth Summer Camps will retain individualized guidance and not move to universal guidance.
The COVID-19 virus is still circulating in our communities, and the only way to know if you have it is to get tested. Interviews with people who have COVID-19 indicate that some assumed they had a cold or a sinus infection, instead of first thinking they might have COVID-19. The best way to keep anyone who is unvaccinated – including your children – is to keep masks on faces, 6-foot spaces and avoid crowded places. Encourage outdoor play as much as possible. Try to be patient because as more people get vaccinated, and we spend more time outside, it will get harder for the virus to spread.
Remember that symptoms can sometimes be mild, such as a headache, cough, fatigue or a runny nose. So, if you have even just one of these symptoms, it's best to get tested. It's also important to avoid going to work, school or other places until you receive a negative result. COVID-19 is a highly transmissible virus, and this is how we can each protect our loved ones and our communities.
As things improve, the guidance will change in some ways. For the most up to date information you can check the Vermont Department of Health website page on Covid-19 information.
---
April 9, 2021 - Update on Agency of Education Guidelines
Dear Slate Valley Families,
I hope this letter finds you well. As we head into April break I would like to update you on new Guidelines released from the Agency of Education yesterday, April 8th. These guidelines are part of Vermont's Reopening Plan. Please read the complete update from Superintendent Olsen-Farrell here: https://5il.co/refa
March 25, 2021 - Update on Return to School
Please read the following update from Superintendent Olsen-Farrell: https://5il.co/qxd1
---

Vermont Phone Lines for Mental Health Support
Recognizing that there are multiple phone resources for Vermonters experiencing a mental health crisis, VCP, COVID Support VT and Pathways put together this resource. There is no wrong door and we are all committed to ensuing that Vermonters receive a welcoming response whomever they call. A link to national resources is below.
| | | | | |
| --- | --- | --- | --- | --- |
| Name | Number | Hours of Operation | Types of Support Provided | A Typical Call |
| Designated Agency Mental Health Crisis Lines | Varies by region: numbers available here. | 24/7 | Crisis clinicians evaluate individuals at imminent risk and refer to higher level services, as well as provide crisis stabilization to prevent needing higher levels of care. | -Caller is concerned about themselves or a family member with suicidal thoughts/actions |
| Pathways Vermont Support Line | 833-VT-TALKS (833-888-2557) - phone/text | 24/7 | Peer operators offer a listening ear for any identified need, crisis or not. Not limited by time or number of calls/day. No mental health screening. | -Caller wants to vent about a challenging relationship-Caller is exploring their gender identity but not ready to talk with friends/family |
| COVID Support VT | 2-1-1, option #2 | Mon-Fri, 8am-8pm | Counselors provide emotional supportand connections to resources and treatment available in the caller's community. Weekly Virtual Wellness Groups offered Tuesdays, 1pm and 5pm, as well as self-help tips via website. | -Caller needs emotional support related to the pandemic- Caller needs help navigating community resources |
All options are free and confidential, and you will receive support at any number you call.
Want something different? Find more national hotline resources here, or text "VT" to 741741 for Vermont Crisis Text Line.
---
Travel Map Update-11-10-20
Due to the rising COVID case counts in the Northeast effective - November 10, 2020, the State of Vermont has suspended its leisure travel map and implemented a mandatory quarantine for anyone returning or traveling to Vermont.
For more information: https://accd.vermont.gov/covid-19/restart/cross-state-travel
---
Stage III Reopening Letter: https://5il.co/laj5
Slate Valley Resources
Other Resources
Slate Valley Athletics
High School
Middle School
Vermont Agency of Education Guidance
SUPERINTENDENT UPDATES
Reopening Slate Valley Schools (VIDEO)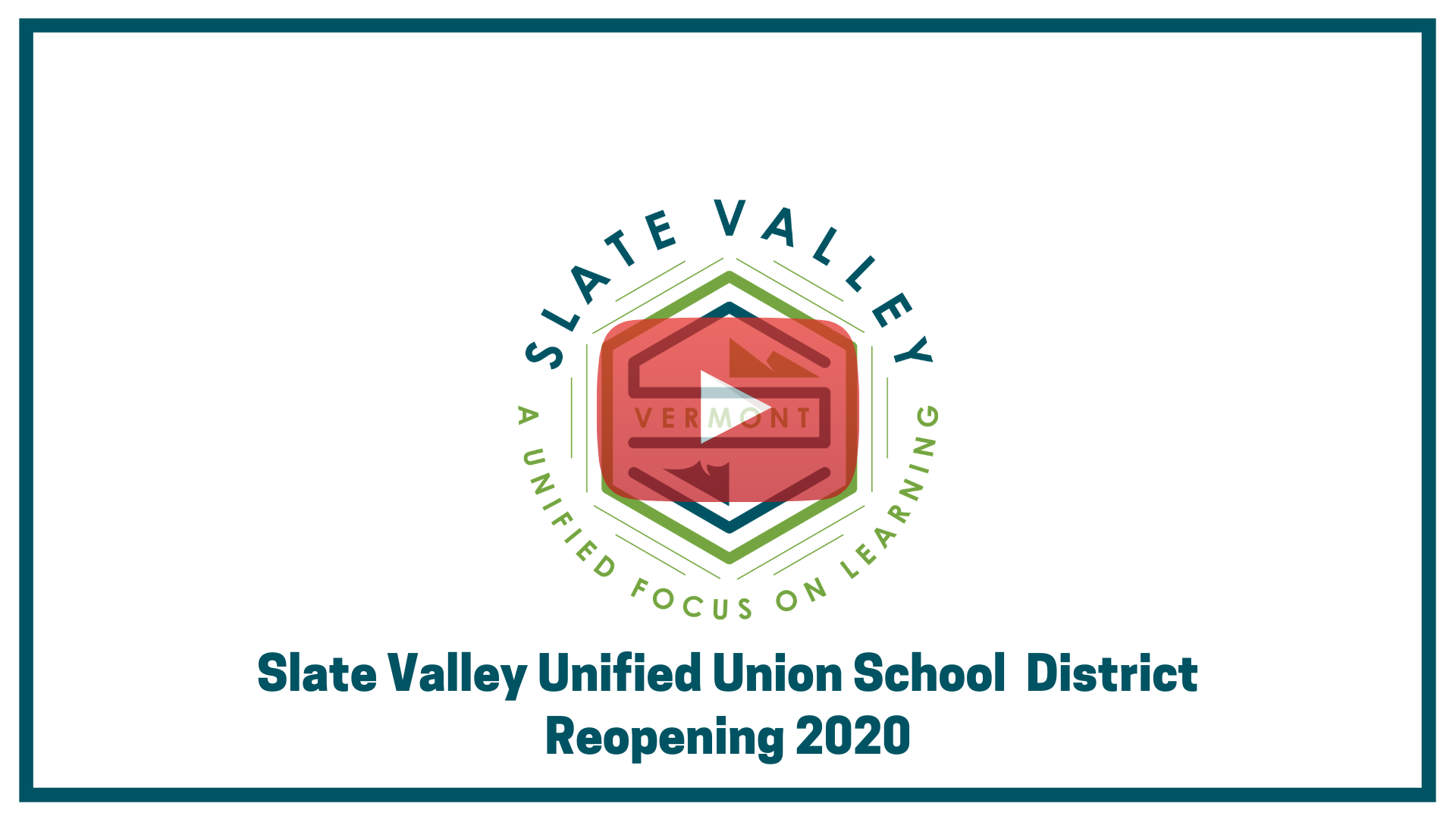 Timeline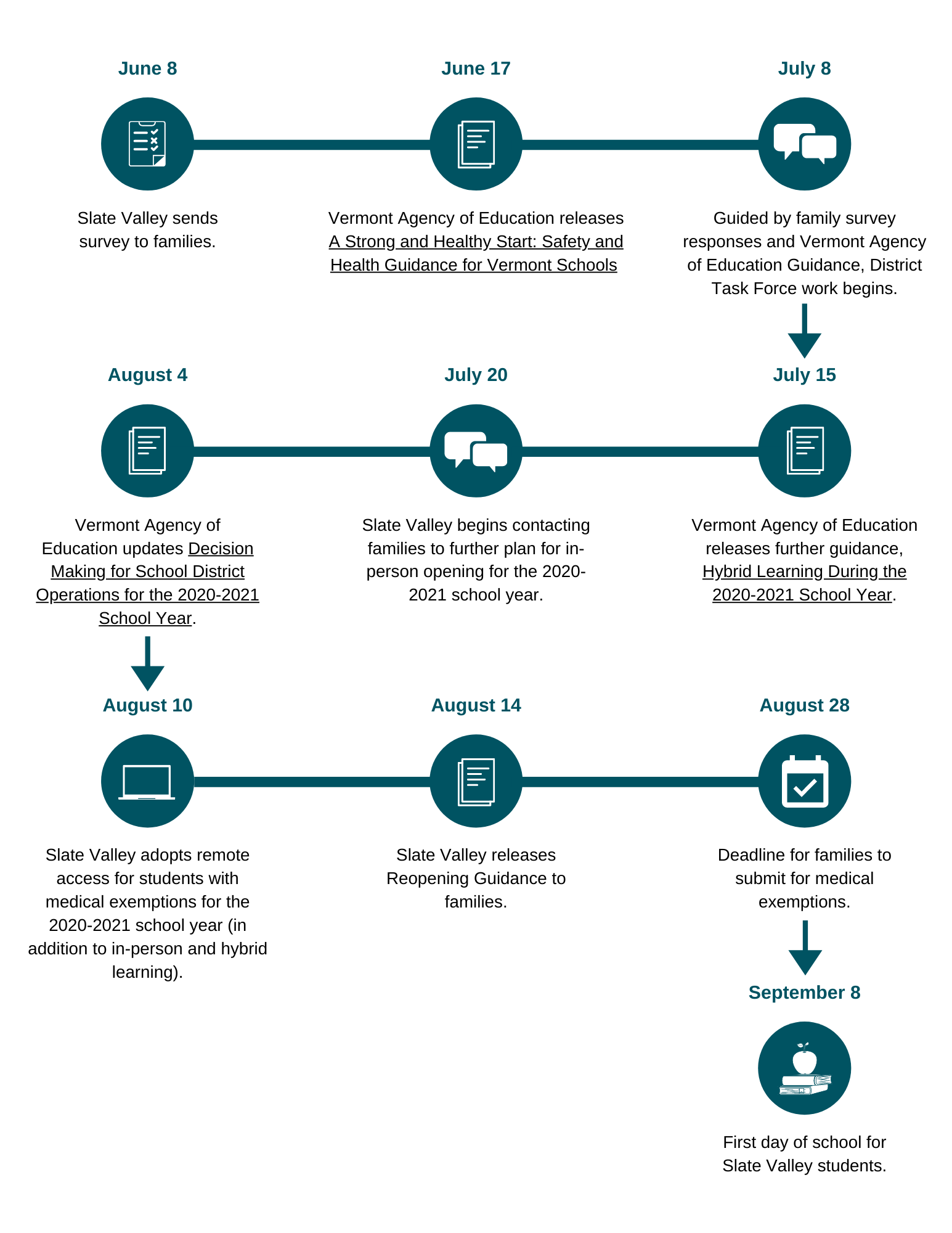 Important Websites
Local Community Resources
Vermont Public Wi-Fi Hot Spots
Interactive Map
Additional Connectivity Resources
The map will be updated as new information becomes available. Vermonters are encouraged to send information about Wi-Fi spots to [email protected]

Vermont Department of Public Service
The Department of Public Service is collecting information and resources on the availability of Internet and telecommunications services during the COVID-19 emergency. This webpage will include information about what cable, telephone, and mobile carriers are doing to assist consumers and places where consumers can find internet access and be updated as new information becomes available.

The PSD has developed a map of libraries, local and state buildings, and schools offering free, open Wi-Fi internet access.
The following resources may be helpful as you discuss COVID-19 with children:
Mental Health Resources
Student, Parent, Staff Counseling Resources
In this time of crisis of many unknowns and uncertainty, it can lead to an individual's mental health faltering. When people succumb to stress they become sick physically and need to seek medical help. Similarly, there are times in life when we ALL experience states of mental health stress that requires supports and strategies.
Asking for help is an act of courage and a sign of strength, not a weakness. We want students and families to know that reaching out for help is a healthy response. Included in these resources is information to educate people on the warning signs and risk factors for suicidal behavior. There are suggestions for actions to take if you or a loved one is in a crisis situation. A list of local resource numbers is available. School clinicians and counselors are still available to provide support and answer any questions that may arise.
Warning Signs
What You Can Do - Responding to Suicidal Behavior
| | | | | |
| --- | --- | --- | --- | --- |
| | | | | |