November 20, 1820 American vessel sunk by sperm whale The American whaler Essex, which hailed from Nantucket, Massachusetts, is attacked by an 80-ton sperm whale 2,000 miles from the western coast of South America. The 238-ton Essex was in pursuit of sperm whales, specifically the precious oil and bone that could be derived from them, when an enraged bull whale rammed the ship twice and capsized the vessel. The 20 crew members escaped in three open boats, but only five of the men survived the harrowing 83-day journey to the coastal waters of South America, where they were picked up by other ships. Most of the crew resorted to cannibalism during the long journey, and at one point men on one of the long boats drew straws to determine which of the men would be shot in order to provide sustenance for the others. Three other men who had been left on a desolate Pacific island were saved later.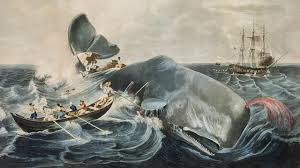 Quote of the Day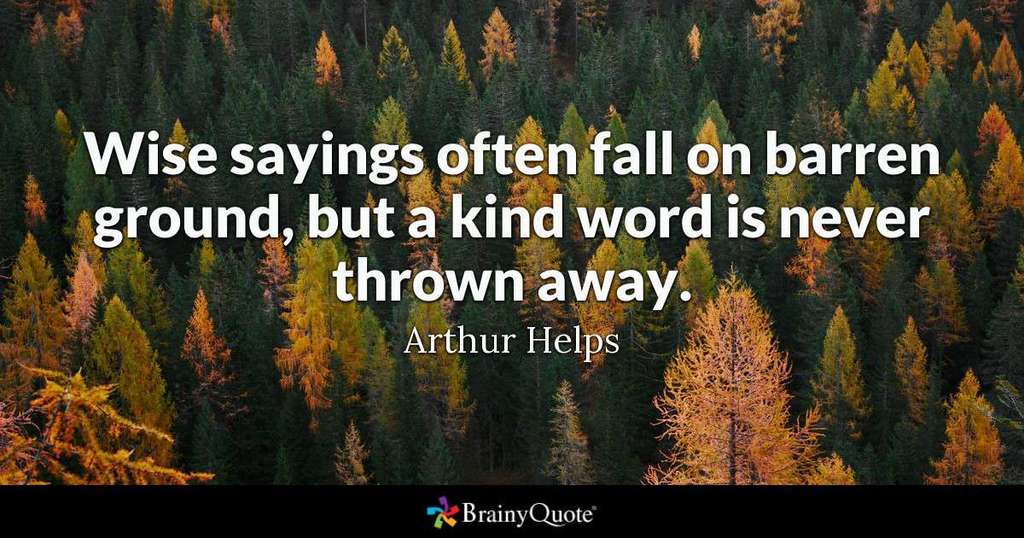 November 19, 1969 Soccer legend Pelé scores 1,000th goal Brazilian soccer great Pele scores his 1,000th professional goal in a game, against Vasco da Gama in Rio de Janeiro's Maracana stadium. It was a major milestone in an illustrious career that included three World Cup championships.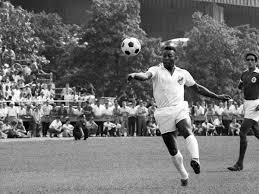 Mandatory Winter Sports Meeting for all Parents & Coaches Monday, November 18th -- 6pm to 7pm --- Fair Haven Union High School Cafe We will be introducing Winter Coaches for Bball and Wrestling, going over practice protocol, schedules (game and practice), uniforms and Q/A.
Thanksgiving Dinner Friday, November 22, 11:00 - 12:45 Wildcat Cafe Come celebrate the magic of Thanksgiving this Friday, from 11:00 - 12:45 at the Wildcat Cafe with a decadent Turkey Dinner prepared by our own chefs Samantha & Zach. Experience an exquisite holiday buffet featuring our famous Stone Farm Turkey, mashed potatoes & stuffing w/gravy, cranberry sauce, and fresh vegetables. Dinner includes baskets of warm baked dinner rolls, and of course our world-famous dessert cart, with several irresistible choices. Please Join Us!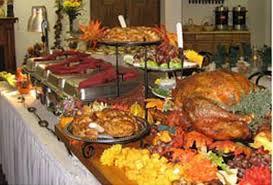 Basketball practices have started in the district, please check the Slate Valley App for updated practices and games. Slate Valley District Wrestling will start Monday, November 18th 4:00-5:30 p.m. at FHUHS. Check the Slate Valley App for all practices. Meets will be updated as they are scheduled. Reminder: Winter sports meeting for all Middle school athletics, November 18th, 6 p.m. at FHUHS cafeteria. Come meet coaches!

You're invited to join us for an informational building tour at FHUHS on November 20th at 6:30 p.m. in the FHUHS Library: •See Facilities Needs •Learn about Slate Valley Innovation Project •Ask Questions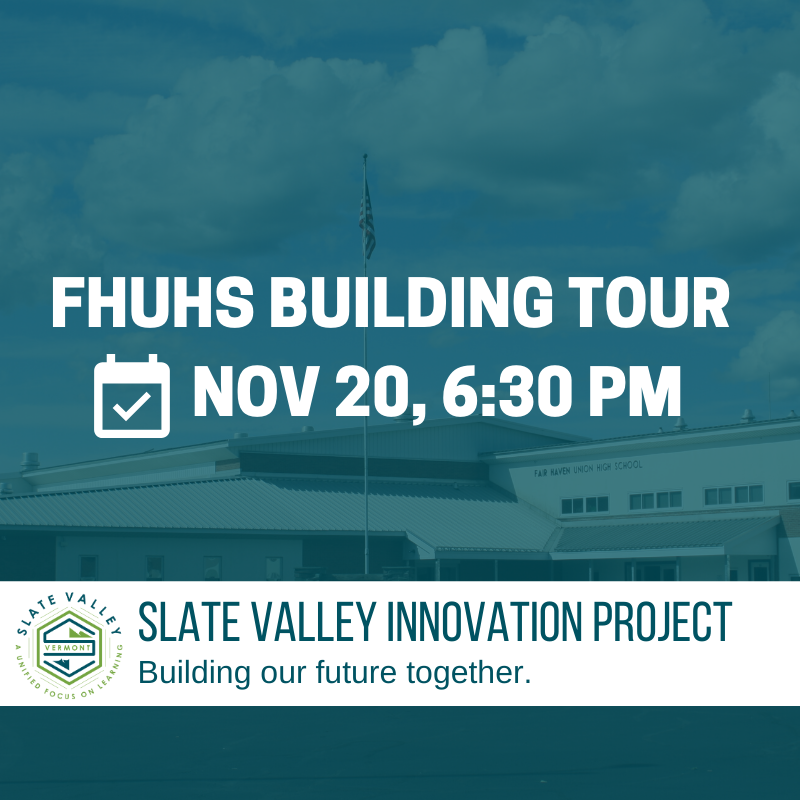 November Spotlight Value * Our spotlight value for November is Kindness. Kindness is showing you care, doing some good to make life better for others. It is being thoughtful about people's needs. Kindness is showing love and compassion to someone who is sad or needs your help. Kindness is treating yourself and others gently. It is caring about the earth and all living things.

There will be a Mandatory Winter Sports Meeting for all Parents, Coaches, Administration: Monday, November 18th, 6 p.m. to 7 p.m., Fair Haven Union High School Cafeteria We will be introducing Winter Coaches for Basketball and Wrestling, going over practice protocol, schedules (game and practice), uniforms, and Q/A.
Picture Retake Day is tomorrow, Nov 5.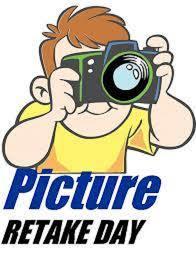 District Music Auditions * Congratulations to all of our Middle School musicians who auditioned for districts and have shown an amazing amount of musical growth!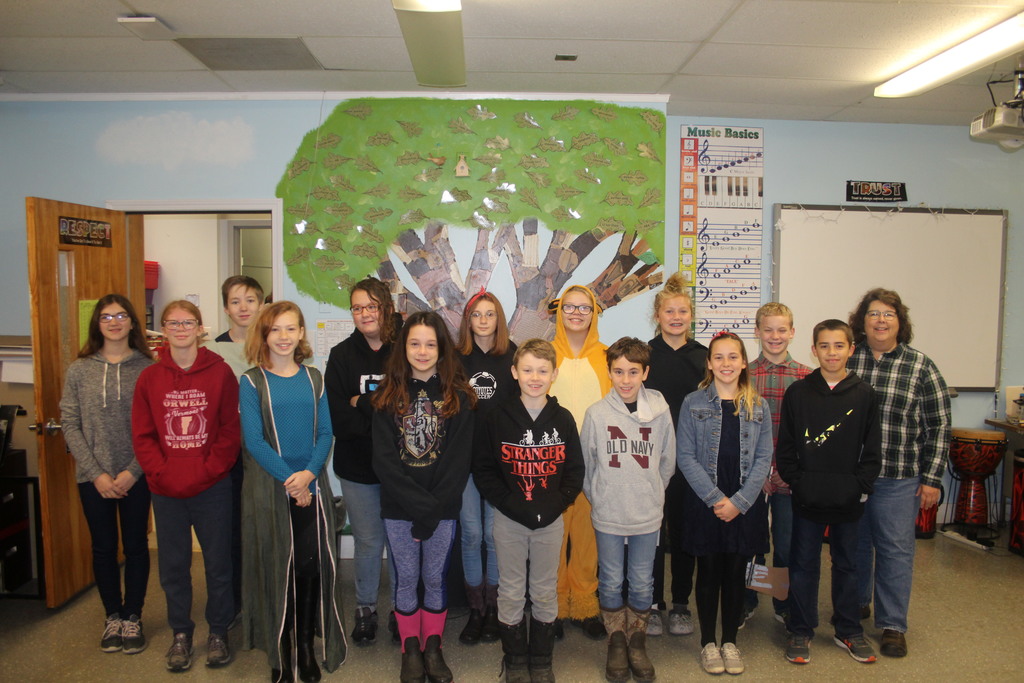 Book Character Parade * Tomorrow, Friday, Nov 1, we will be having our Book Character Parade. Students are encouraged to dress up as their favorite book character. The parade will begin at 2:30 and we will be circling the town green.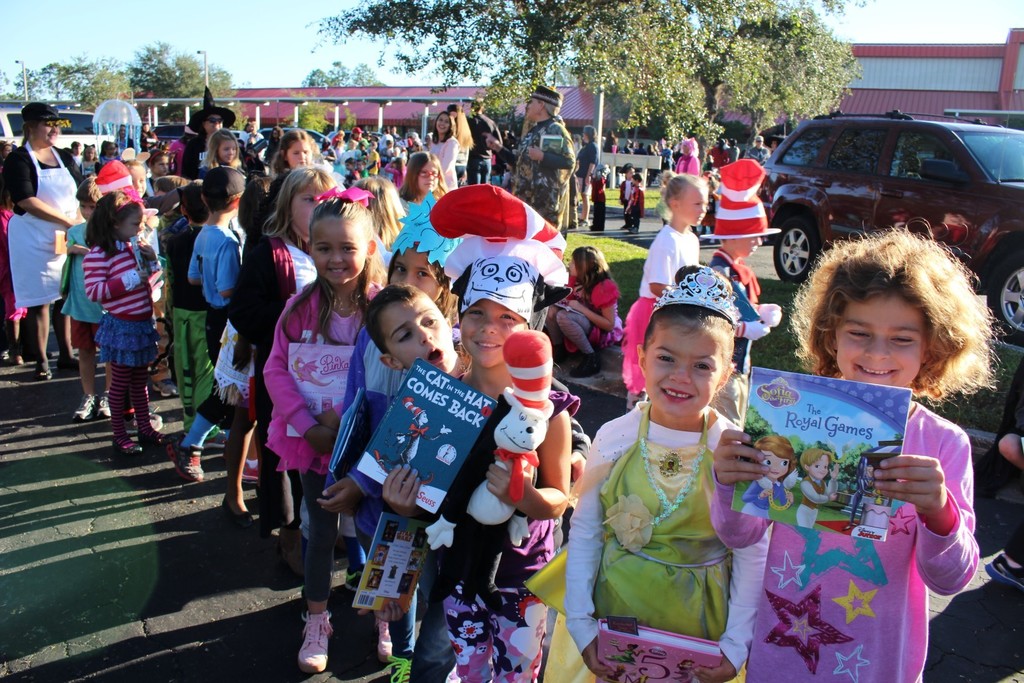 Regional Spelling Bee * We are very proud of our 5/6 and 7/8 Spelling Bee Teams as they performed amazingly under the intense pressure that comes from competing against our Chittenden County counterparts. A tremendous thank you to coach Robinson, the parents, students, and community members who made the hosting of our first Regional Spelling Bee a huge success.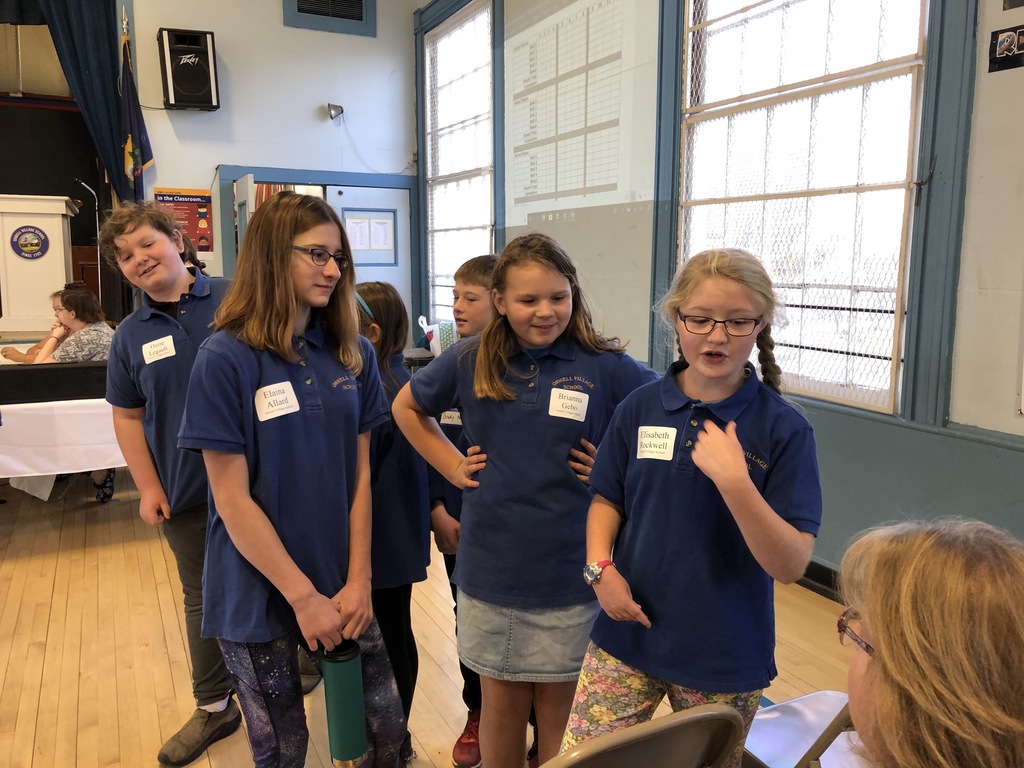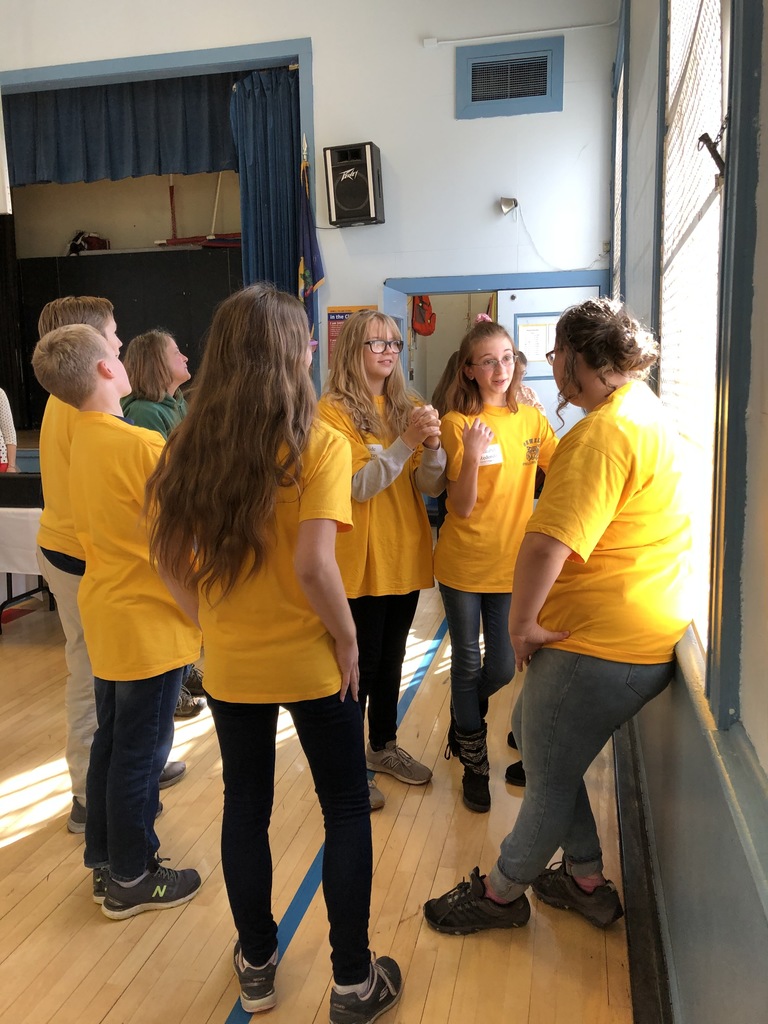 One of our first graders pulled "Read a book to the class" out of the prize bin the other day. So here she is reading her favorite book to everyone 😊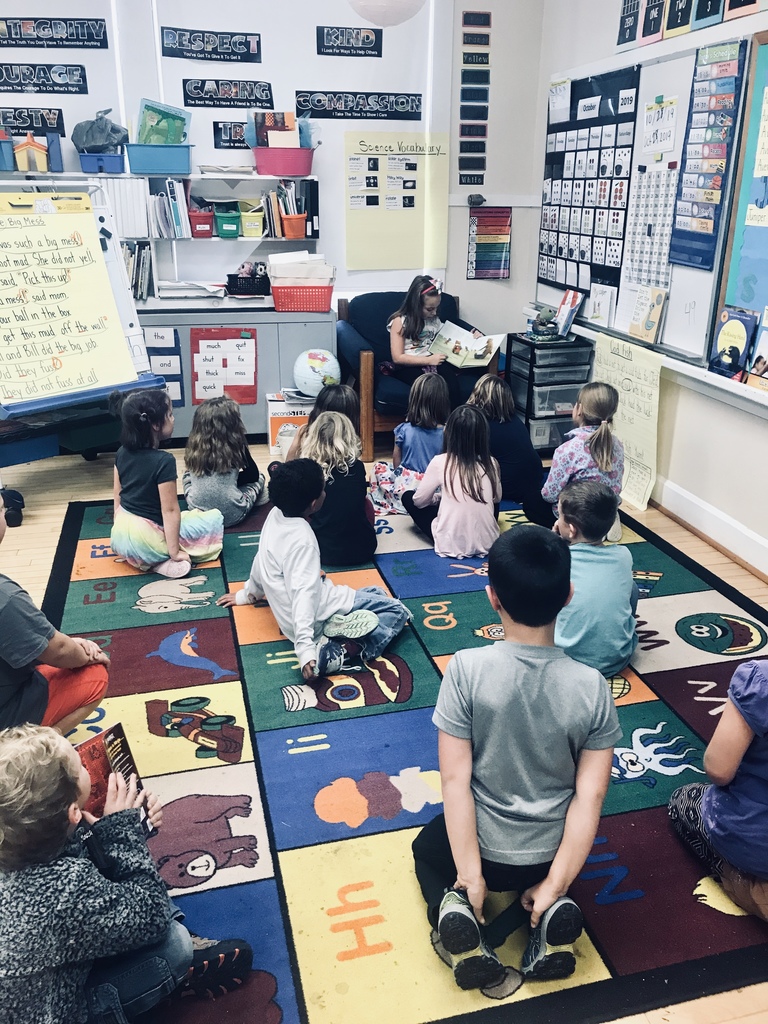 There is no chess today.  We will resume Monday, Nov 4 at 3:30.

Reminder! Online registration is open through November 8 for Slate Valley Middle School Winter Sports (Basketball & Wrestling). Register online at:
https://bit.ly/2B0TSAC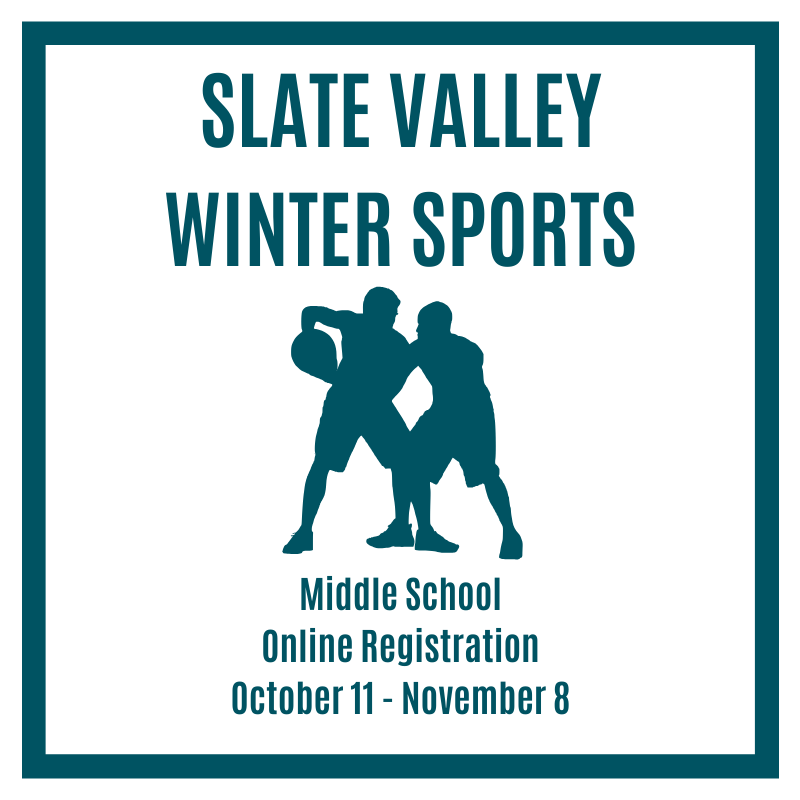 Thursday's Menu has changed from roast chicken to roast pork
Chess Canceled This Week Mon & Thurs Oct 21 & 24. Will resume next Mon & Thurs Oct 28 & 31
Online registration is open from October 11 through November 8 for Slate Valley Middle School Winter Sports (Basketball & Wrestling). Register online at:
https://bit.ly/2B0TSAC