EDIT MAIN
Reorganization Decision Letter
May 25, 2021
As a district, we have certainly endured a lot of change over the last several years from COVID to school merger and reorganization. I could not be prouder or more thankful for how the community has come together during these unprecedented times to support our children.
I am pleased to announce that last night, May 24th, the school board voted to realign our district schools. Beginning in the fall of 2022 the following changes will be implemented:
Fair Haven Union High School will become a 7th-12th grade school.
Orwell Village School will house grades PreK-6.
Fair Haven Grade School will house grades PreK-6.
Castleton Elementary School will house grades PreK-6.
Benson Village School will continue to house grades PreK-6.
Castleton Village School will be closed permanently or educationally repurposed depending on the outcome of a vote by the Town of Castleton on March 1st, 2022.
Over the course of the next year, there will be work that will need to be done to make these changes a reality. We are currently in the process of renovating the Fair Haven Union High School to accommodate our 7th and 8th grade students. If COVID has taught us anything, it is that we can't anticipate the hurdles that may lie ahead, so we are entering into this transition with an open mind.
Please look for further communication and updates as the transition unfolds. We actively maintain a reorganization page on our website where you can find current information. As always, please feel free to reach out if you have any questions.
Best,
Brooke Farrell
Superintendent
---
Slate Valley Reorganization Presentation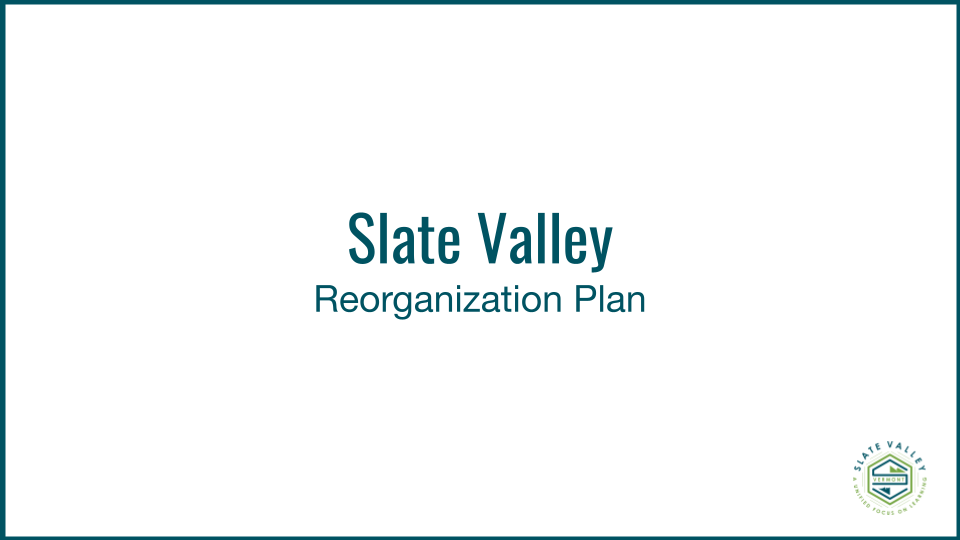 (Click image to view PDF of presentation)
Presented at the May 10, 2021 SV Board Meeting.
---
Frequently Asked Questions
Why can we move the 7th and 8th grade students without a bond?
Many of the infrastructure needs still exist throughout the district. We can move the students, but the facilities will still require work over time. Moving the 7th/8th grade students was never contingent on the bond being approved. However, we may need a bond in the future to address all of the infrastructure needs independent of the middle school.
Heating Distribution System- HS
Electrical Work- HS
ADA Compliance- HS
Bathrooms- HS/Orwell
Kitchens- Orwell/HS
Science Labs- HS
Elevator- FHGS
Possible 2nd Gym- HS
When the district started the Innovation Project we surveyed the community and they wanted an autonomous middle school. Since the bond failed we have looked at other buildings in the district and it is simply not possible given the size of the buildings, location, curricular advantages, and instructional needs to move the students anywhere else with the exception of the High School without a significant amount of construction.
When the Orwell Village School was a separate district they developed plans for a new cafeteria and gym. The SV Board thought that there was a need and wanted to respect the wishes of Orwell by including the project in a district bond vote.
By moving the 7th and 8th grade students without benefit of a bond there will be compromises. For example, we won't have STEM labs that were proposed, 2nd gym, etc. The space limitations will influence programming, scheduling and the middle school model.
What is the estimated savings with moving to a district middle school?
Possible Savings:
We are hoping to move the students, close CVS and use some of the savings to deal with some of the infrastructure needs in the district.
Essentially the operating costs of just the CVS building at $170,000 annually.
Additionally it is projected that if we move 7th and 8th grade to the high school we could save somewhere in the neighborhood of $1,000,000 in personnel costs.
What is the plan for Middle School Programming?
Willing members of Slate Valley's Innovation Committee met in October and November of 2020 to reflect on that committee's work. Participants in the Innovation Committee's 2020 meetings recognized design elements they hoped to carry to the 2021 Middle School Redesign Team. A survey was sent in before December Break, and again when we returned, to all middle school educators encouraging them to apply to join the Middle School Redesign Team. This team started meeting in January of 2021 to reimagine teaching and learning at the middle level, specific to our Slate Valley Mission and Vision, with the goal to create 7-8 curricula to be utilized in future MS configurations in Slate Valley.
Using the Vermont Association for Middle Level Education's MIDDLE SCHOOL IS NOT A BUILDING the Slate Valley Middle School prioritize the following teaching and learning goals:
Implement and support effective middle level structures, including flexible grouping and scheduling and interdisciplinary teaming. This includes
Provide team teachers with consistent common planning time multiple times per week.
Build interdisciplinary teams that maintain the same students and teachers for two or more years.
Provide on-going professional development and training on advisories.
The following principles/ideas from Slate Valley's Innovation Committee support the 7&8 grade redesign:
Middle school students benefit from learning with and among a larger, more diverse cohort of students
Flexible grouping and scheduling and interdisciplinary teaming are used when/where possible.
Consistent common planning time multiple times per week.
Interdisciplinary teams that maintain the same students and teachers for two years.
Ability to explore multi age instructional groups within the structure of a 7&8
Strengthen training in the middle school philosophy-advisories.
Opportunity to advance in studies
Opportunity to see participation in extracurricular activities that do not exist currently due to lack of a "critical mass"
Maintaining equity and educational opportunity for all our students in the face of declining enrollments (remediation, enrichment, SEL)
Breadth of programming: The creation of a district middle school creates a critical mass of students needed to provide the full range of programs- e.g. technology, engineering, arts, etc.
Development of a Slater 7-12
Development of College/Career Readiness 7-12 (aptitude tests, spaces where activities take place on campus)
Peer Leaders-12th graders supporting 7th graders
Peer Tutors-internal internships for 9-12 accessing 7&8
Will the Middle School and High School share staff?
The shared staff include a Health Teacher, Music teachers, Digital arts teacher, Visual art teacher, Librarian, Behavioral Interventionist, Middle School/High School Assistant Principal, Assistant Principal in charge of Special Education
Will the Middle School students be separated from the High School students?
As much as possible. For the vast majority of their classes they will be housed in their own wing.
Where will the middle school students be housed?
Towards the back of the building, on the first floor in the current art, wellness center wing.
What is the plan for the Castleton Village School?
We are currently discussing partial lease agreements with other educational partners that could help bring programming for afterschool, early childhood education, testing services, etc. to our students. Nothing is solidified yet. If the district should decide not to educationally repurpose the building the district would ask the voters of Castleton and Hubbardton for permission to officially "close" the building. The first right of refusal would revert to the towns of Castleton and Hubbardton. If the towns did not want the building the district could decide to sell the property.
We are currently working with the Town Library and School District Attorney to address the portion of the property that contains a 500 lease agreement and resolving a boundary line issue on the property. Both issues should be addressed by the fall of 2021.
Is further consolidation of the elementary schools being considered?
Yes, this would be Phase III of the Reorganization plan and come after the realignment to a district middle school. The Administration and School Board would consider all factors such as enrollment, costs to upgrade infrastructure, location, etc...
When would the new middle school open?
Fall of 2022
---
Parent-Community Member Letter
October 27, 2020
Dear Slate Valley Community Member,
Not all that long ago, November of 2019, the Slate Valley Board voted to put forth a bold plan known as the Slate Valley Innovation Project and sent a bond consideration to the voters in March of 2020. Since this time, we have been largely focused on the response to COVID-19. While we remain focused on the pandemic, we also need to consider the future of the Slate Valley School District.
Much has changed in light of the pandemic, but also some concerns remain:
Declining enrollment;
Increasing costs;
Decreasing capacity to meet student needs despite our very best efforts;
Infrastructure needs.
When I started in this district 10 years ago we had 1461 students, today we have 1186 students. That is a dramatic decrease, not uncommon across many districts in the state. It is unsustainable for our communities to continue operating 6 schools in the current format. We have a long history of failed budgets in this district, the most recent this past year. In August, our third budget vote this year, the budget passed by just 16 votes. Our response to failed budgets has been to cut programs/personnel without looking at reorganization. This is simply not sustainable in our current configuration, and not what is best for our students.
The original principles of the Innovation Plan were based on student needs that are still present today. The school board met on October 26th and agreed to move ahead with exploring district reorganization. At the end of the retreat the board asked the administration to develop plans to do the following:
Develop a plan to address the current facility and infrastructure needs of schools across the district (including core maintenance);
Create a unified district Middle School;
Add both educational and economic value for taxpayers;
Enhance the delivery and quality of district programs through a collaboration with community partners.
With respect to the Middle School, the board is exploring the consolidation of grades 7th and 8th at the High School beginning in the Fall of 2022. The School Board and Administration believe that despite our best efforts, Middle School students need additional opportunities that can only be offered in a larger educational setting. We cannot do this across 4 middle schools with low student numbers; it simply isn't sustainable. The administration has been tasked with bringing forth a plan to the school board that addresses the following:
Communicate a plan for community feedback;
Develop mock schedules/programs/curricula;
Present a cost/benefit analysis
The creation of a district middle school would result in the closure, or educational repurposing, of Castleton Village School for the 2022-2023 school year. As a result, Castleton Village School 6th graders would return to Castleton Elementary School.
In addition, the board is exploring moving Benson 7th and 8th grade students beginning next Fall (2021). We will have 8 students total, in grades 7 and 8. Currently, we have 2 teachers that are teaching across 5 grade levels. While we deeply appreciate the wonderful job these teachers are doing this is not a sustainable model. The board will consider by way of a vote on December 7th to make Benson Village School a PreK-6 school with in-district choice for 7th and 8th grade. Should the school board decide to move in this direction they will provide transportation for Benson 7th and 8th graders to any Slate Valley middle school.
While there is still a tremendous amount of work to be done in regards to our reorganization, I wanted to make sure you are aware of the direction we are headed as a district. There will be time for feedback and participation in this process. While I know change can sometimes be hard, I am motivated by the fact that I believe a consolidated middle school is what is best for our students and the future of Slate Valley.
Best Regards,
Brooke Farrell
Superintendent
---