Last post for now…3D/circuitry, macrame and a couple more of the hiking group. We have incredible students!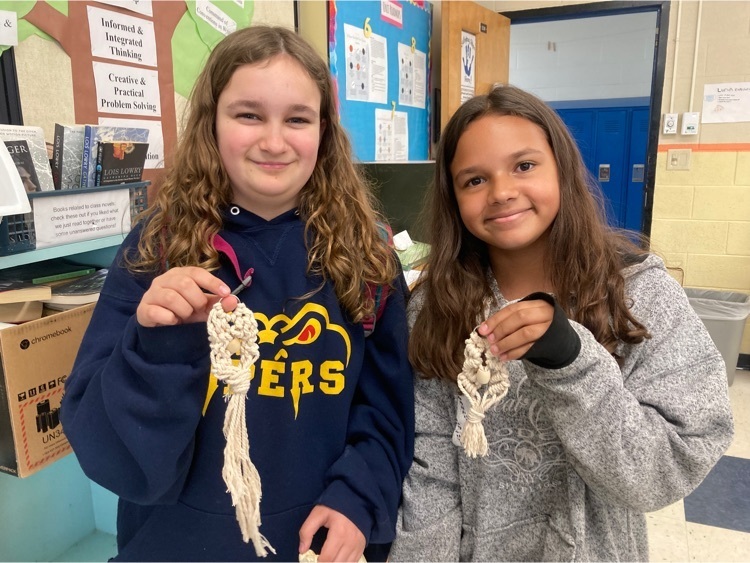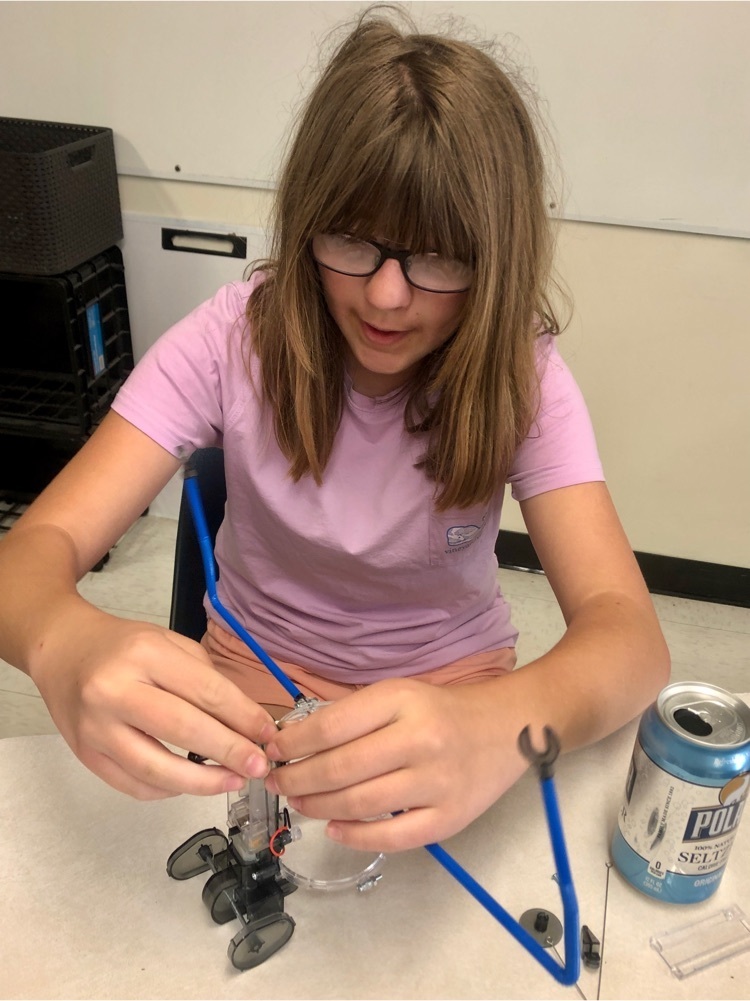 More lifetime activities…some of our hiking, archery and fishing groups!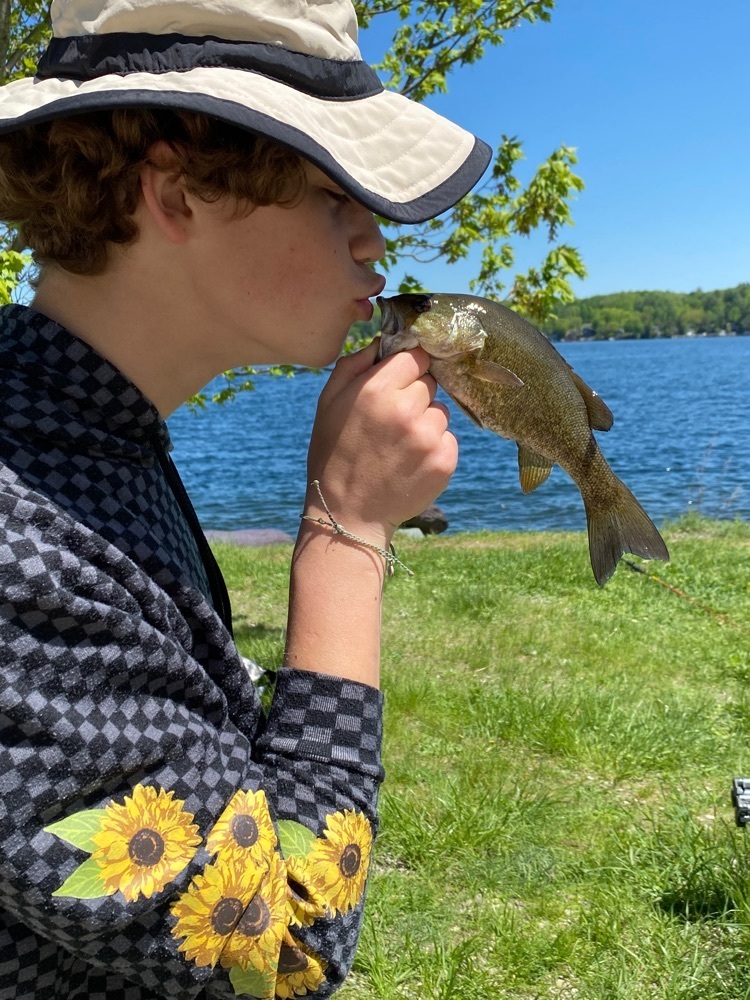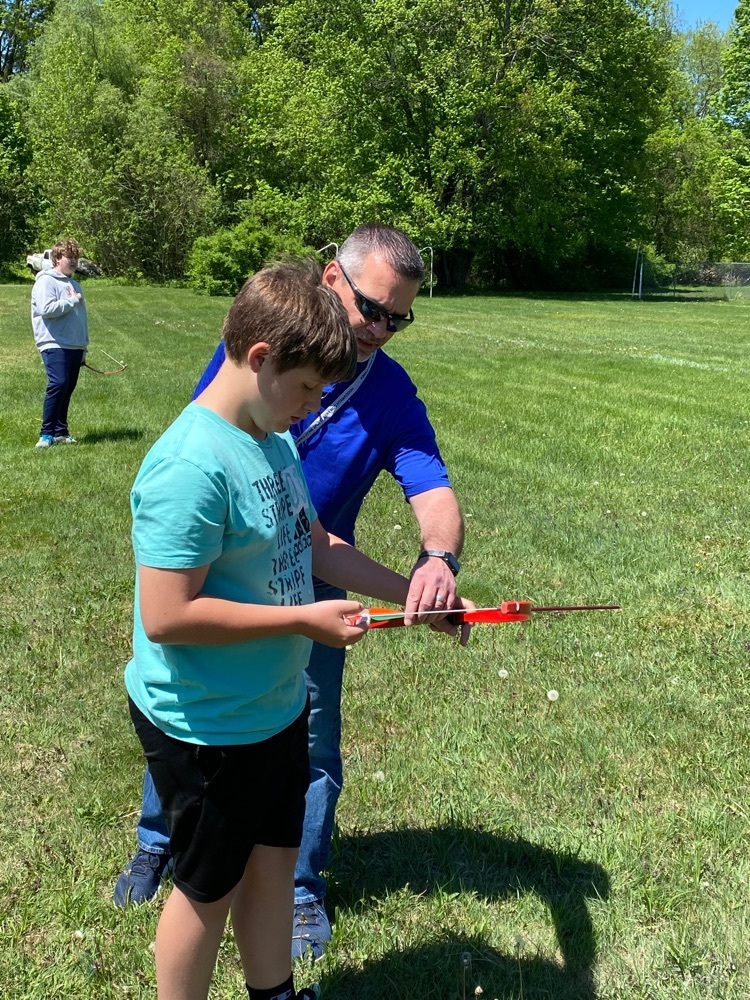 We could not have picked a better day for our second session of Lifetime Activities! More photos to come. Thank you to all who make this possible!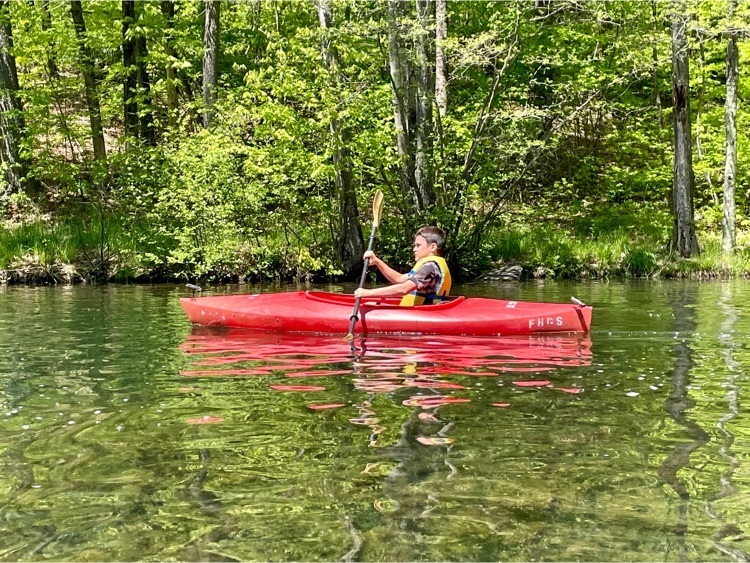 Please join us for our Memorial Day Program, May 25, 2022 in the Fair Haven Park. Rain location will be in the FHGS Gym.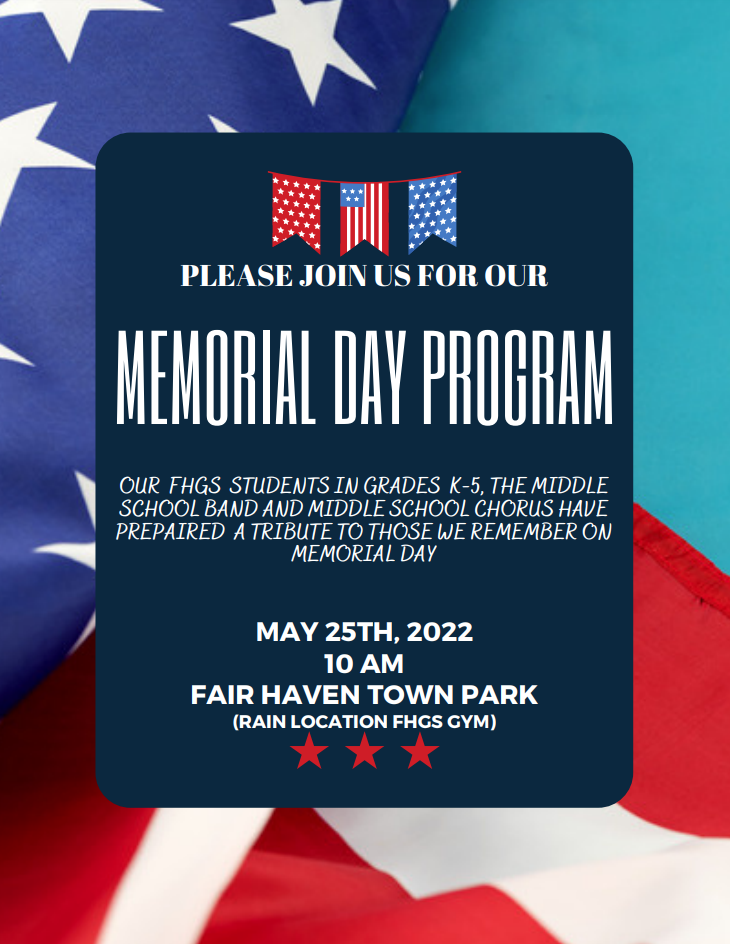 FHGS Kindergarten Registration (for the 2022-2023 School Year) will be this Thursday, May 19th. Please call the school at 802-265-3883 to make an appointment. We look forward to seeing you!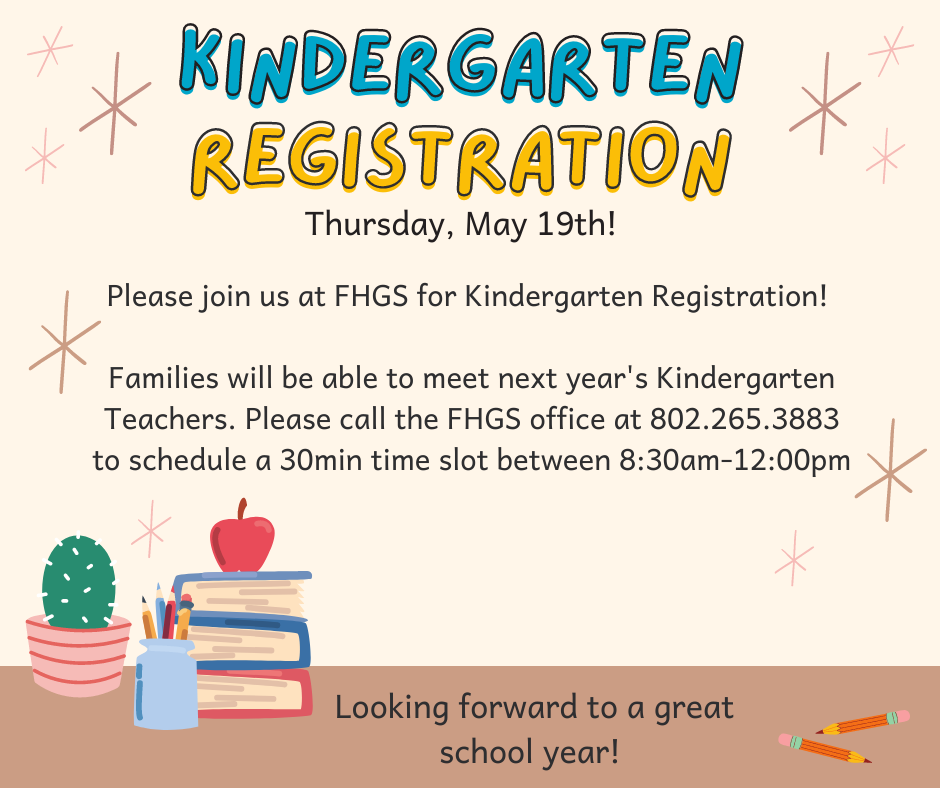 Slate Valley 7/8 Baseball FHGS/BVS w/ Coach Ken and Coach Jethro - playing at Otter Valley. Go Slate Valley!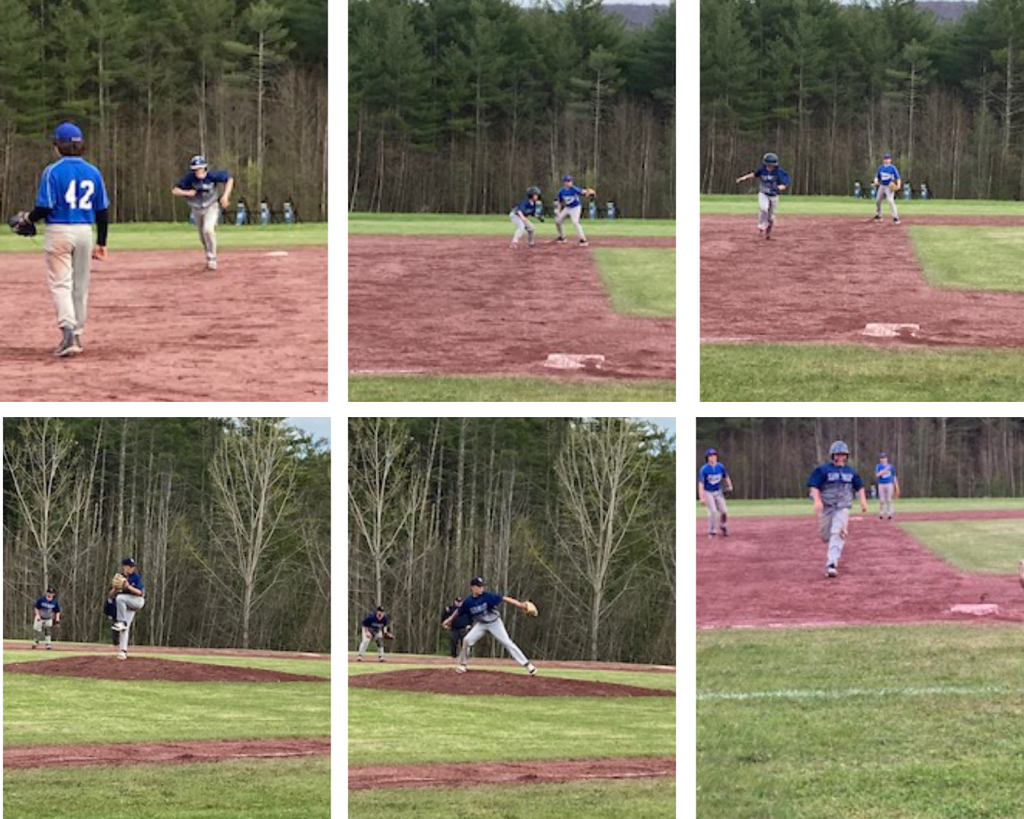 You're invited! Please join us at tomorrow night's PTO Meeting to provide input into our school's continuous improvement plan and home school compact. We hope to see you there! 6:00pm - FHGS Library

Tonight - May 9, 2022 You're invited to the Slate Valley Unified Union School District Board Meeting at 6:30 p.m. in the Fair Haven Union High School Library. This meeting will be in person or virtually connect by going to
https://meet.google.com/wdf-rbzv-grn
or by calling: (US) +1 715-544-8886 PIN: 163 155 016# Tonight's Agenda:
https://5il.co/19xjx
Previous Meeting Minutes:
https://5il.co/19ip5
Next Board Meeting: May 23, 2022 - 6:30 p.m. at Orwell Village School
The FHGS Middle School Team is happy to offer students a second session of Lifetime Activities.

FGHS Student Voice is holding a food drive. Collection will end May 13th.
Bike Club Starts tomorrow!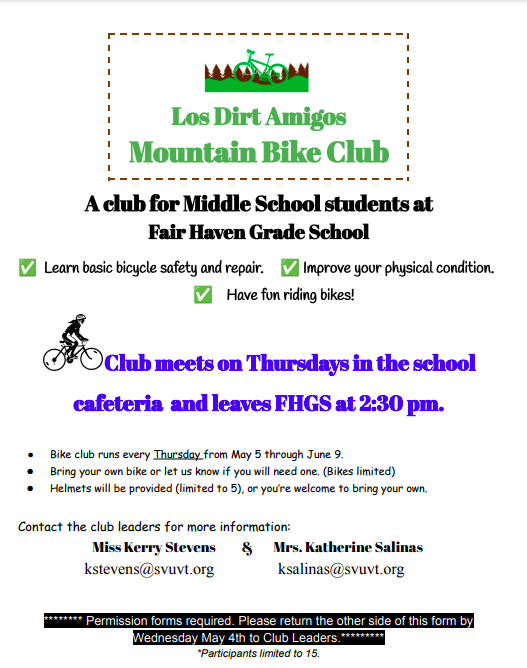 The Lion's Club will be holding their Kids Fishing Derby again this year in West Haven. The derby is FREE to kids 0-12 years old!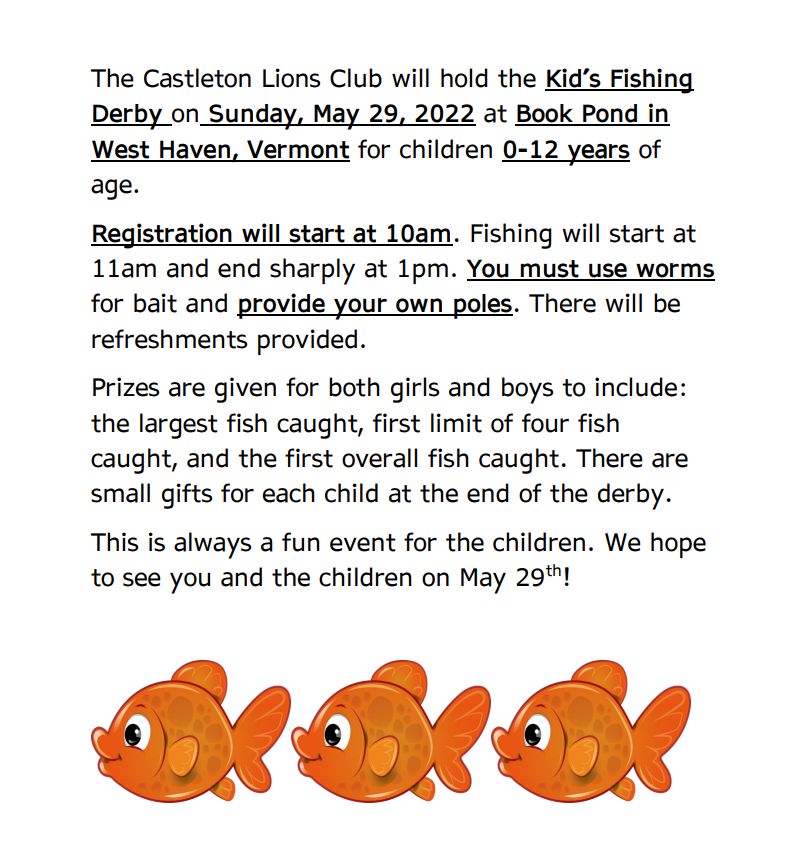 Dear Slate Valley Staff and Families, Unfortunately Covid-19 is making a resurgence in our area. If anyone is experiencing symptoms, even if you think it is just allergies or other illness, it is still recommended that you test to be sure. You can request tests from the school if you need them. If you are unable to test, you should stay home if you have symptoms until you feel better. You can also choose to wear a mask, wash your hands frequently, keep your hands away from your nose and mouth, clean surfaces frequently and distance yourself where you feel it is necessary. Please see the Department of Health website for more in depth information. Hopefully by following these strategies, we can keep this resurgence to a minimum.
https://www.healthvermont.gov/covid-19
Please reach out to your school nurse if you have any questions. Best, Brooke Olsen-Farrell Superintendent
Exciting news! The installation of the new playground has started!
April has been BUSY at FHGS and we know the next few weeks will be even more! We are happy to share our April Newsletter highlighting a few of the activities taking place at FHGS. Enjoy!
https://5il.co/19ocn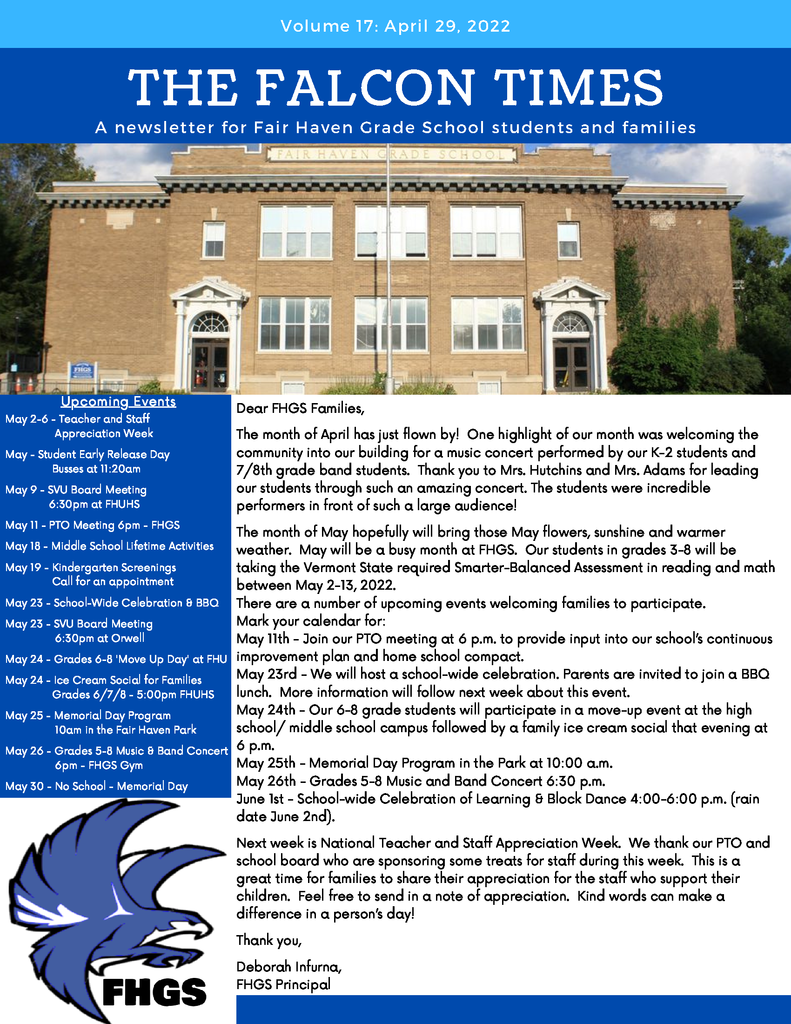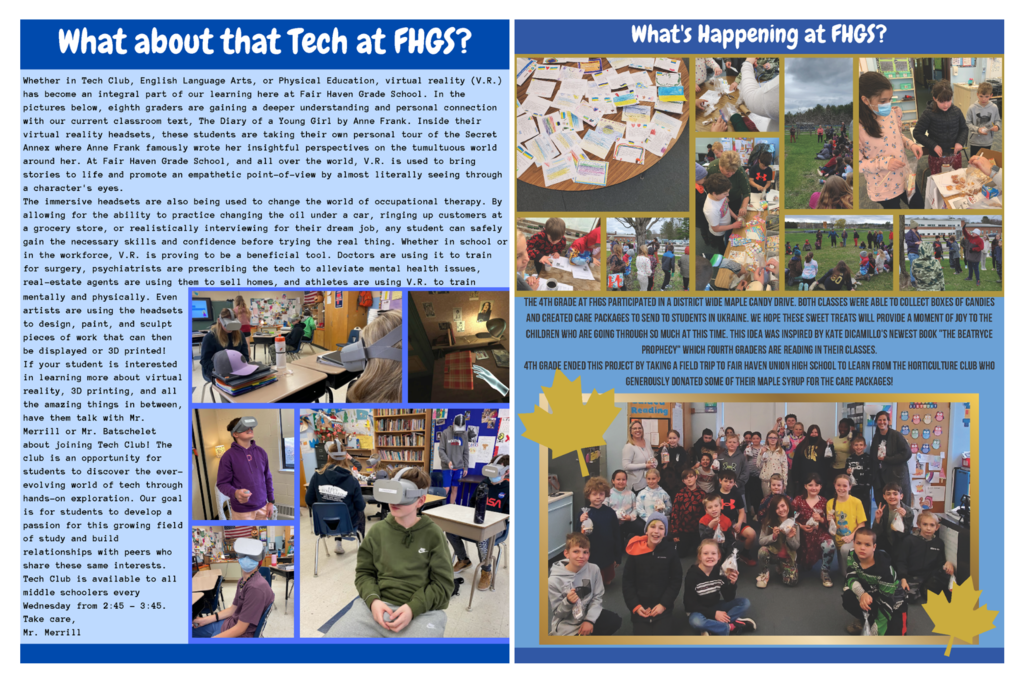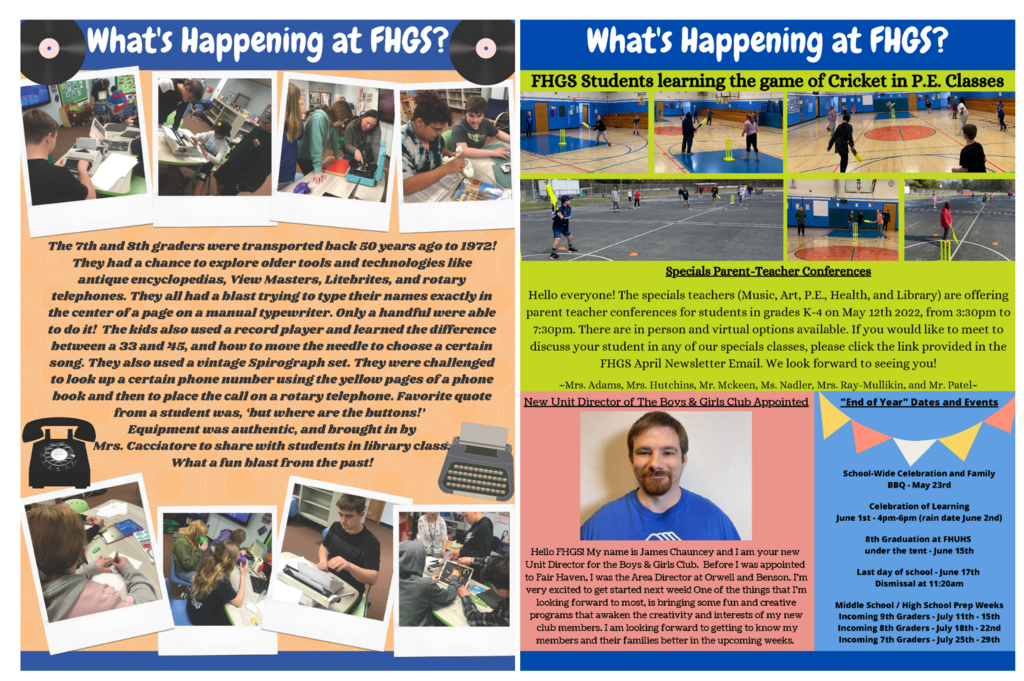 8th grade spent the day visiting CCV in Rutland. They got a taste of college classes, learned more about higher education and options they have as they head to high school and beyond.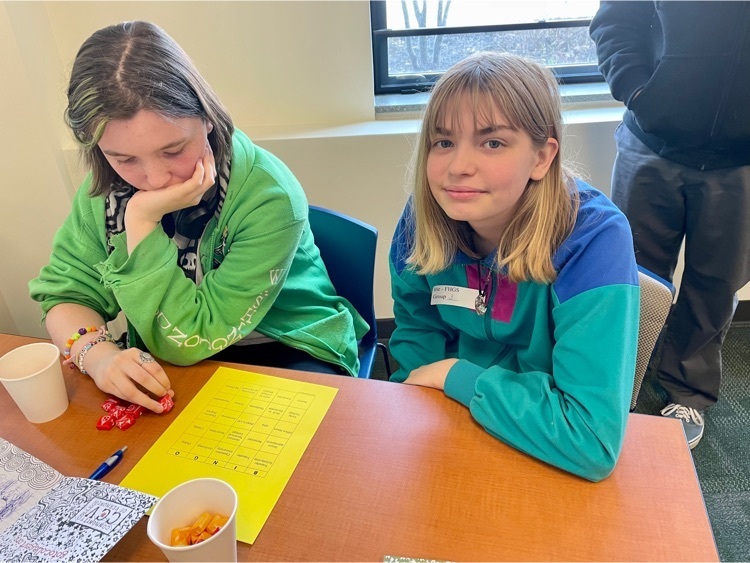 Yesterday the 7th and 8th graders were transported 50 years ago to 1972! They had a chance to explore older tools and technologies like antique encyclopedias, Viewmasters, Litebrites, and rotary telephones. They all had a blast trying to type their names exactly in the center of a page on a manual typewriter. Only a handful were able to do it! It was a fun blast from the past.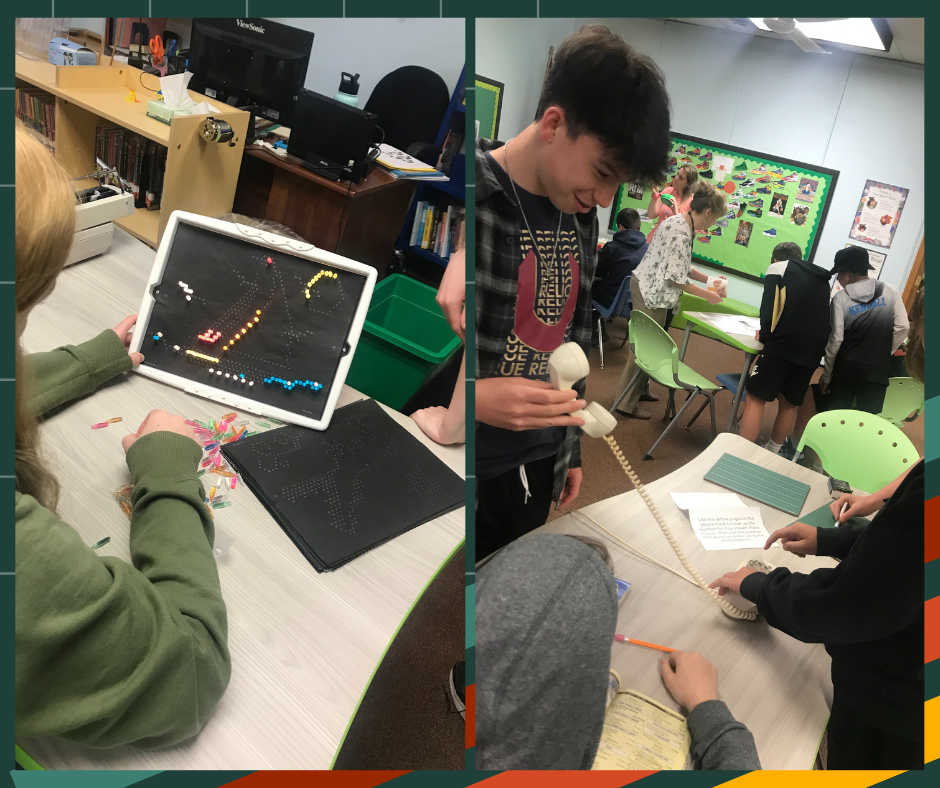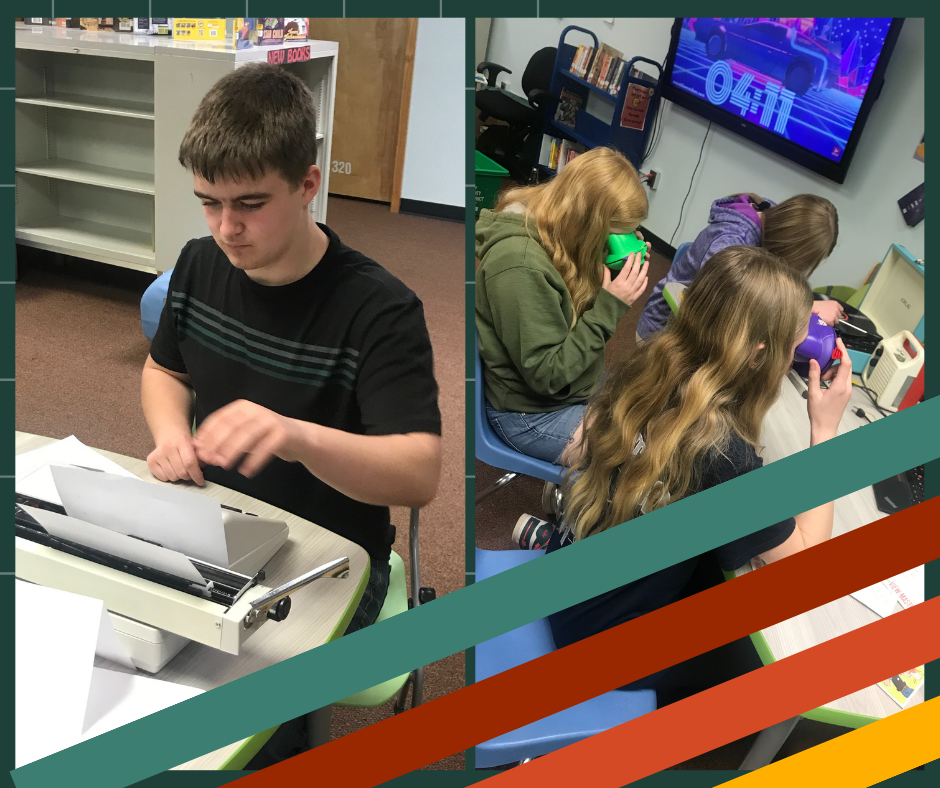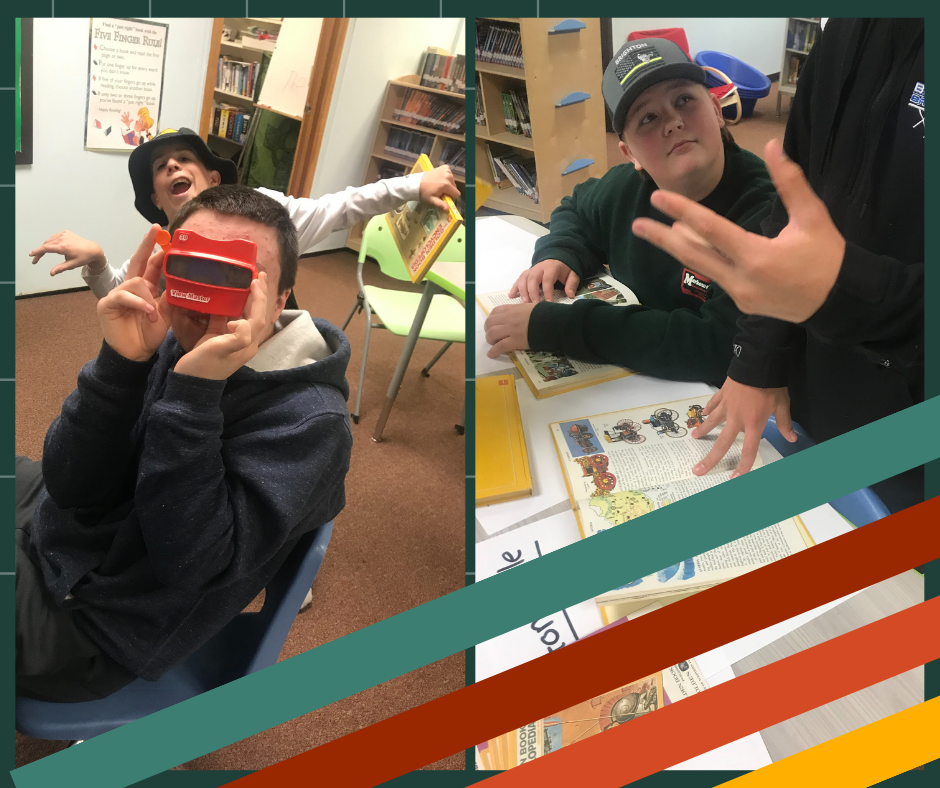 We're hiring! Slate Valley Unified Union School District has a year round full time position opening for an ACCOUNTS PAYABLE SPECIALIST. Responsibilities including processing accounts payable for the district. Bookkeeping experience is required, as well as strong technology and organizational skills. For more information, please contact Cheryl Scarzello, Director of Finance at (802) 265-2561 or email at
cscarzello@svuvt.org
Please visit
https://www.slatevalleyunified.org/page/employment-opportunities
for a complete listing of employment opportunities with SVUUSD.
Unfortunately, Boys and Girls Club will be closed this week (April 25-April 29) at the Fair Haven Grade School Site.