Fall Athletic offerings (Grades 9-12): Boys soccer w/ Coach Tim Dayton Girls soccer w/Coach Teri Perry Football w/ Coach Jim Hill Field Hockey w/ Coach Allison Resnick Cross Country w/ Coach Randy Shutter Cheer w/ Coach Andrea Tester Bass Fishing w/ Coach James Henderson Golf w/ Coach Steve Cathcart Sign up from July 1 - August 24th. Please register your athlete early at Formreleaf.com. Yearly physicals are required. Please hand in your Physical forms to Kim Alexander.

Fair Haven Recreation & Slate Valley Vermont Youth Project Presents: Family Summer Pop Up Series Wednesday nights at 6 p.m. Fair Haven Town Park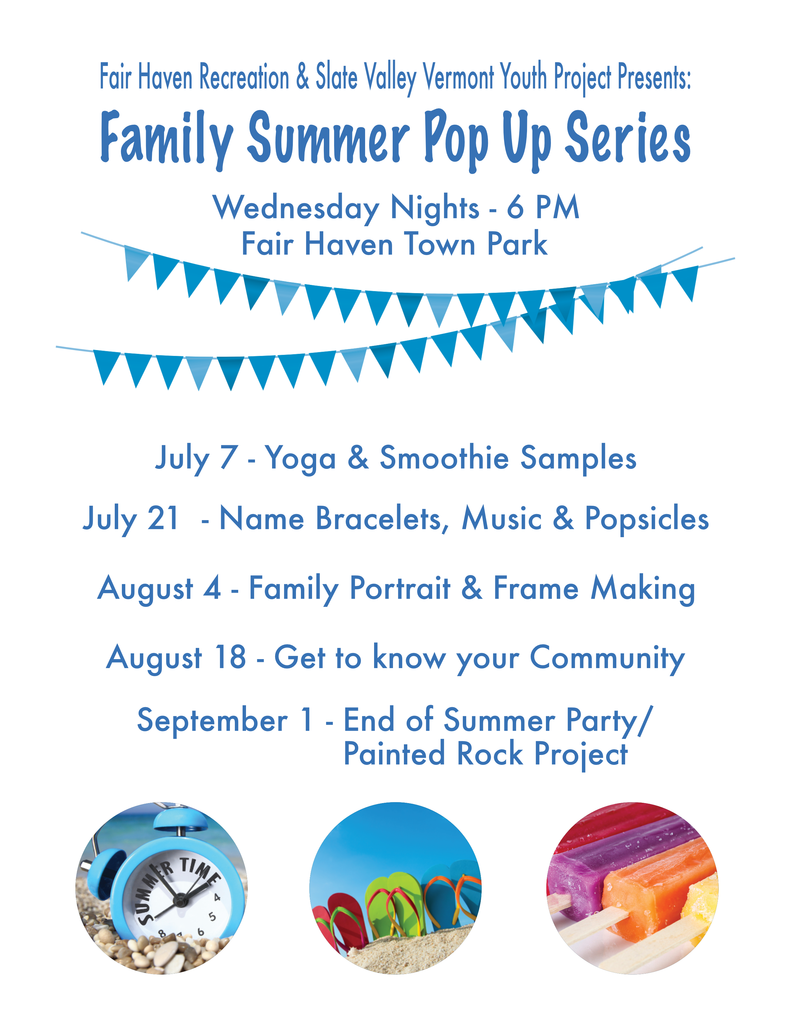 Tonight! (July 21st) You're invited to a Special Meeting of the Slate Valley Unified Union School District Board at 6:00 p.m. in the FHUHS Band Room. This meeting will be in-person or you may virtually connect by going to
https://meet.google.com/xqs-iikq-yxt
or join by phone (US) +1 617-675-4444 PIN: 527 672 701 5804# Tonight's Agenda:
https://5il.co/vhq0
Previous Meeting Minutes:
https://5il.co/ufgs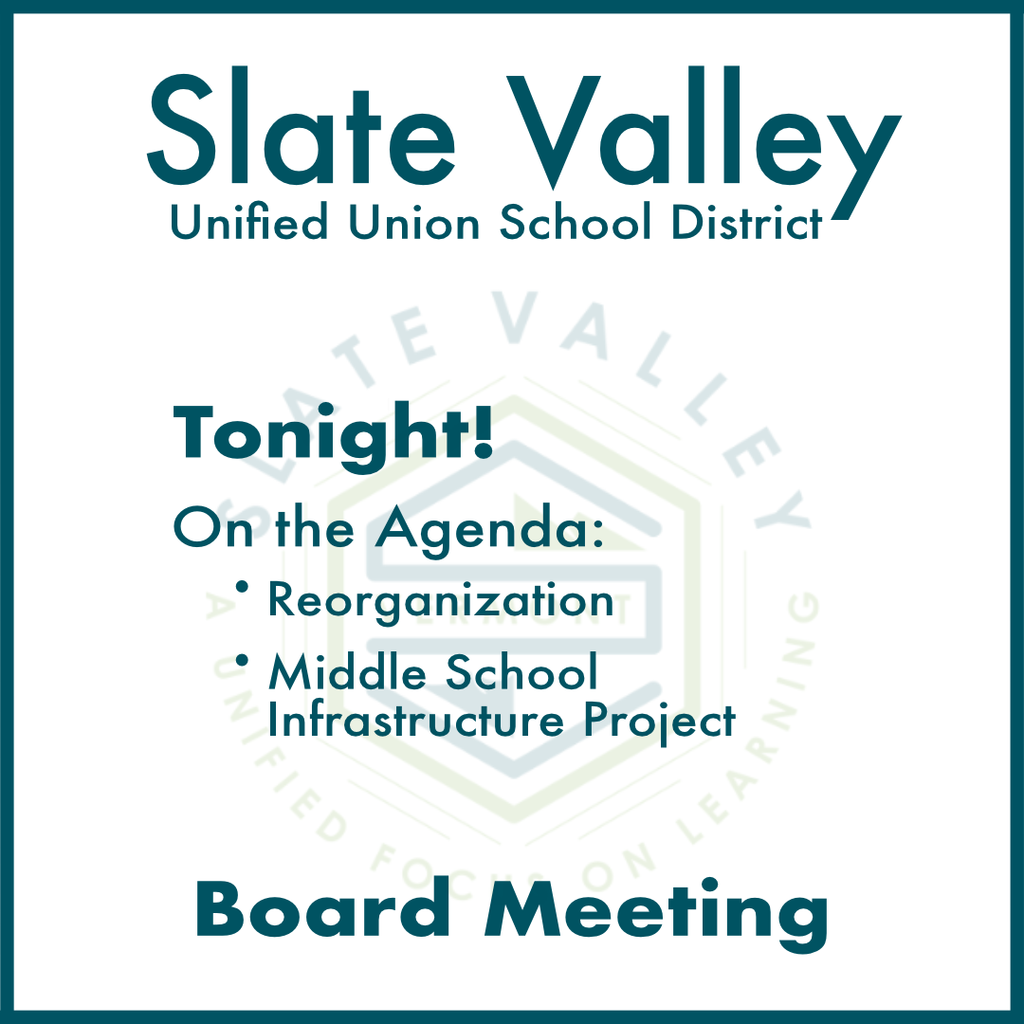 Cheer camp hard at work!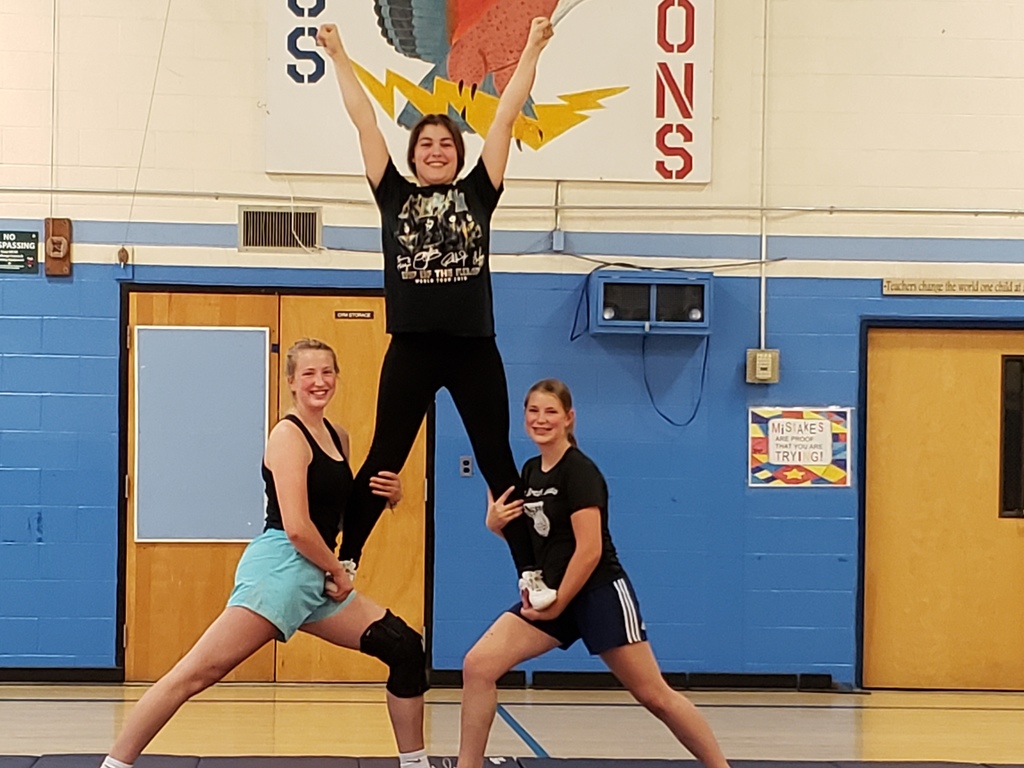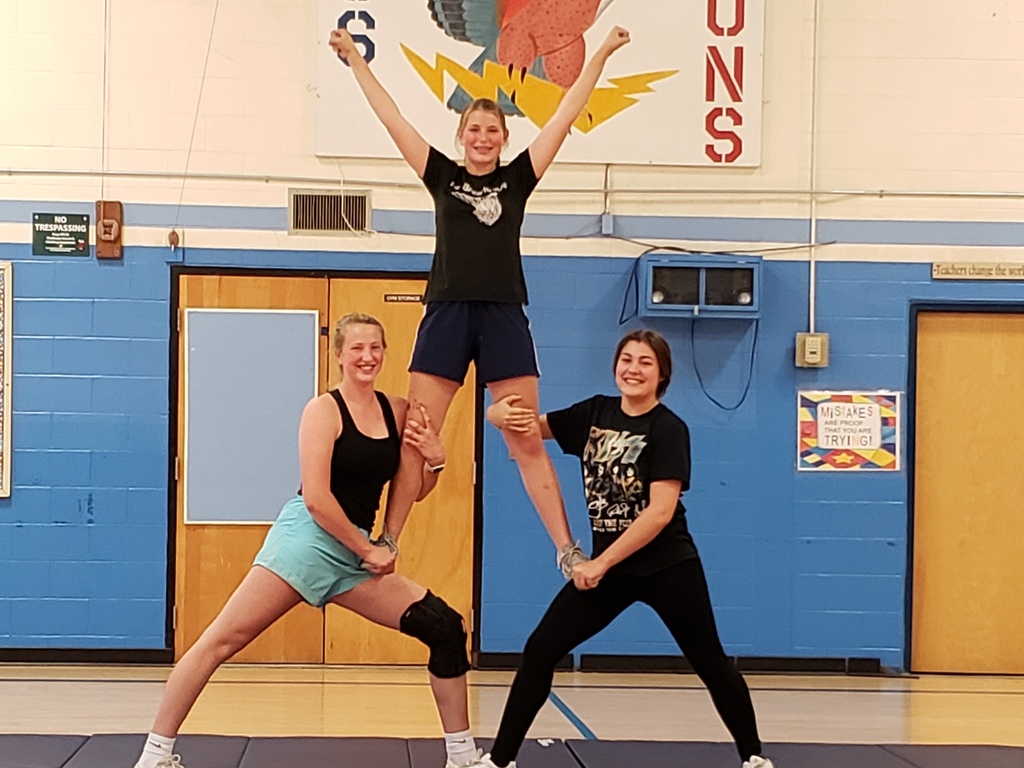 FHUHS Football Pick up practice at FHU - July 21st and 28th 7:00-8:30pm Fall Football -- Start date for all Football players August 16, 2021 - Monday - Friday 4:00-7:00 pm, Saturdays - time to be announced by coach. Remember to register on Formreleaf.com Yearly physicals are necessary and will need to be handed in to Kim Alexander.

BBA Field Hockey Summer Camp When: July 19th - July 23rd, 8:30 AM - 12:30 PM (Bring a nutritional snack; water and a sports drink will be provided) Age Group: Girls entering grades 8-12 (Campers will be placed in groups according to abilities.) Where: BBA Taylor Turf Field, Burr and Burton Academy, Manchester, VT. The gym is available in case of inclement weather. Bring an old sock to cover your stick should we play indoors. What to Bring: Shoes for turf suitability/sneakers, mouthguard, water bottle, stick, goggles, healthy snack. Goalies: Bring your own gear (or contact coach at your school for equipment). Cost: $150 Register:
https://forms.diamondmindinc.com/burrburton/2021camps
More Details: Basic skills, offensive and defensive techniques, and strategies, and positional play will be taught with a positive, fun and challenging approach at a level appropriate for the experience and ability of each camper. Goalkeepers will receive goalie-specific instruction and individualized attention. Skills will be developed through drills, scrimmages, 7v7, and game instruction. An emphasis on the importance of warm-up, stretching, good nutritional habits, and POSITIVE thinking for the athlete will be incorporated throughout the week. Athletes must provide their own equipment (mouthguard, stick, turf shoes/sneakers, goggles, water bottle; goalies must have their own equipment or see your coach BEFORE camp if you use school equipment). All campers should provide their own healthy snack and have sun protection available. Water and sports drinks will be provided. The last day of camp will be a morning of fun competition, small and full field games; a "FUN DAY" to wrap up camp). Coaching Staff: Lucrecia Cabut Johnson is the Coach of the BBA JV Field Hockey Team. Lucrecia has been playing field hockey through the "Sporting Club" in Argentina since she was 12 years old. She has been a player, a coach, and an official. Lucrecia is the oldest of six children who are all involved in the sport. Two of her sisters play at highly competitive levels; one in Argentina, the other in Spain and Italy. Lucrecia loves the fast pace and physical demands of the sport and that it teaches young boys and girls about being part of a team as they learn and gain respect, strength, commitment, and reliance, all values she learned by playing field hockey and now wants to pass on to future generations! Victoria Cabut is a former Argentina Women's Junior National Team, she represented Argentina in the 2010 Youth Olympic Games in Singapore (Silver medal), 2012 Junior Panamerican Games in Guadalajara, Mexico (Gold Medal), and the 2013 FH Junior World Cup in Mönchengladbach, Germany (Silver Medal). Since 2015 Victoria has been playing professionally for European teams in Spain and most recently, Belgium. Additional Coaching Staff: Bill Davidson: Former US Men's National Team member and D-I, D-III College Coach Amy Wright (Goalie Coach, BBA) Lynne Sanders (Coach, MEMS, former Head Coach, Rutland) For more information, contact Lucrecia Johnson at (970) 2819697 or email:
[email protected]
.

5th Annual Mike Roberts Memorial Basketball Clinic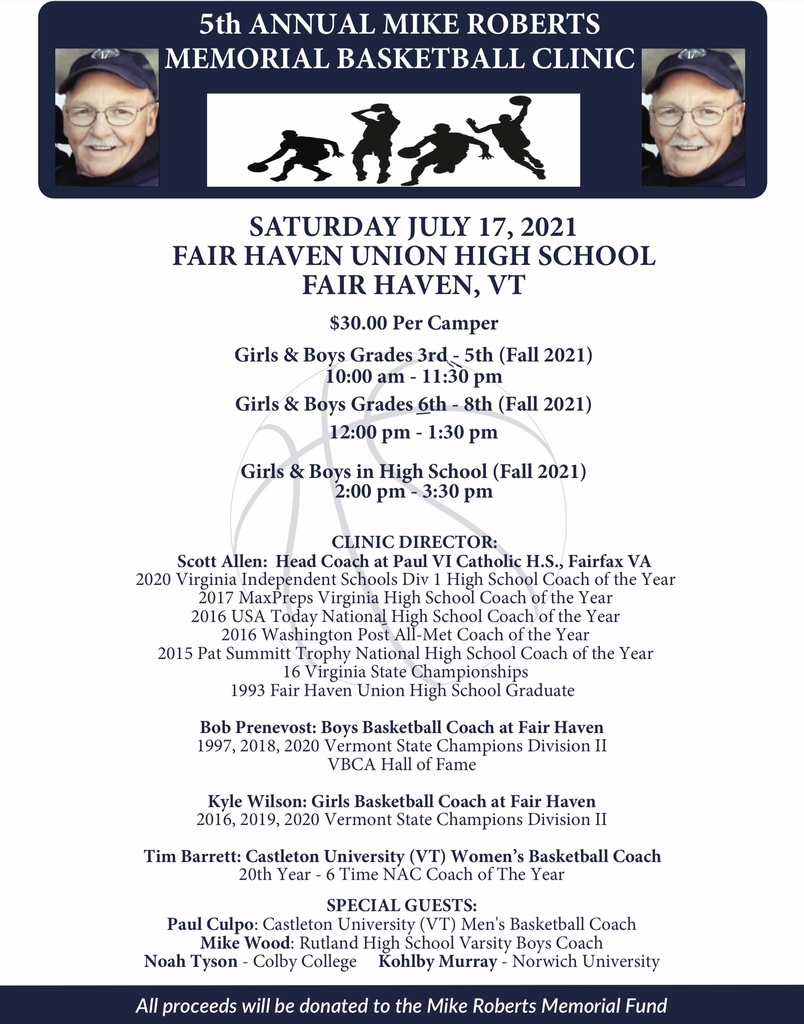 New Soccer Officials Clinic Date: Saturday Aug. 21 Location: Burr and Burton Academy, Manchester, VT Time: Classroom session 11am-12:30. On-field work 1pm refereeing an in-house Burr and Burton boys team scrimmage. Cost: $25 on-line with register with NFHS Insurance on Dragonfly. Clinic cost $50 (check payable to Eric Evans) covers clinic, rulebook, directory, and VSOA membership through Dec. 31, 2021. Equipment Needed: Laptop/tablet/phone which can access internet. Bring as much refereeing gear as you have. RSVP required: to Eric Evans
[email protected]
802-345-8627 (c)
Welcome to High School Prep 2021!!! We are looking forward to an exciting two weeks! Activities are going to be split between the high school, and Lake Bomoseen State Park. The Vermont Outdoor Adventure Program will be involved mostly at Lake Bomoseen. The focus of Prep is on building relationships and starting high school feeling confident and connected. There will be a couple of projects the kids will work on, trips to Bomoseen, mini golf and bowling and also time getting to know the school and staff. High School Prep will be the week of July 12, and the week of July 19. The day will run from 8:30 AM- 12:45 PM. Breakfast and lunch will be offered every day. Limited transportation is available. In the morning, one bus will pick up at OVS at 8:00 am and BVS at 8:15 am. A second bus will be picking up at CVS at 8:15 am and CES at 8:20 am. Buses will return students to those locations after program dismissal.

Fair Haven Recreation & Slate Valley Vermont Youth Project Presents: Family Summer Pop Up Series Wednesday nights at 6 p.m. Fair Haven Town Park

5th Annual Mike Roberts Memorial Basketball Clinic


FHUHS CHEER CAMP July 12-16th (Monday - Friday) 1:30-4:30 p.m. at FHGS Gym This camp is open to ANY incoming 8th -12th grader - Boys and Girls in the Slate Valley School District. Come join the fun - learn team building skills, how to be a leader, what cheering is all about, and work on basic fundamentals cheering. NO prior experience needed!! Come one, come all! Join Varsity Cheer and Competition Coach, Danielle Burdick for the week. You will need comfortable clothing, sneakers and a water bottle. Please enter the FHGS gym from the back parking lot and on the Dollar General side. No sign up or enrollment - just show up.

SkillsUSA has just announced the top 9 finalists in all competitions. Stafford has Top 9 Finalists in three national competitions: Automated Manufacturing Technology, Entrepreneurship and Nail Care. Out of those 9 finalists, two are from FHU! Congratulations to FHU finalists: Owen Doran (Engineering Automated Manufacturing) and Thomas Arthur (Engineering for Entrepreneurship)! Medalists will be announced during the National Awards Ceremony, tomorrow, June 24th:
https://mm.6connex.com/event/virtual5/SkillsUSAConferences/login
Nail Care and Entrepreneurship will be announced during the 3:30 p.m. session. Automated Manufacturing Technology will be announced during the 5:00 p.m. session.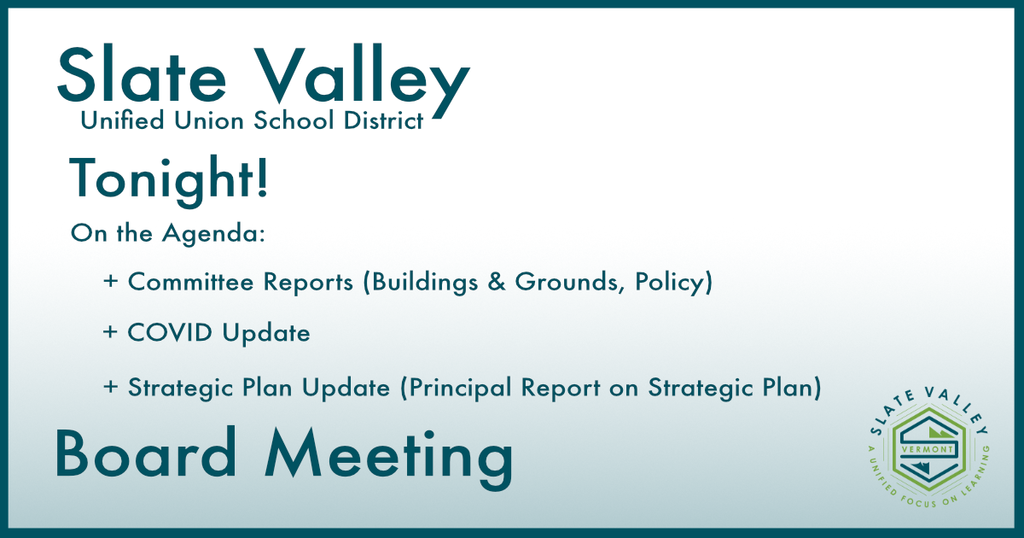 We are pleased to announce that we will be live streaming the Fair Haven Union High School graduation ceremony this evening, June 18th, at 7 p.m. You may view the stream at:
https://youtu.be/BfYrt5jHRQI

Fair Haven Recreation & Slate Valley Vermont Youth Project Presents: Family Summer Pop Up Series Wednesday nights at 6 p.m. Fair Haven Town Park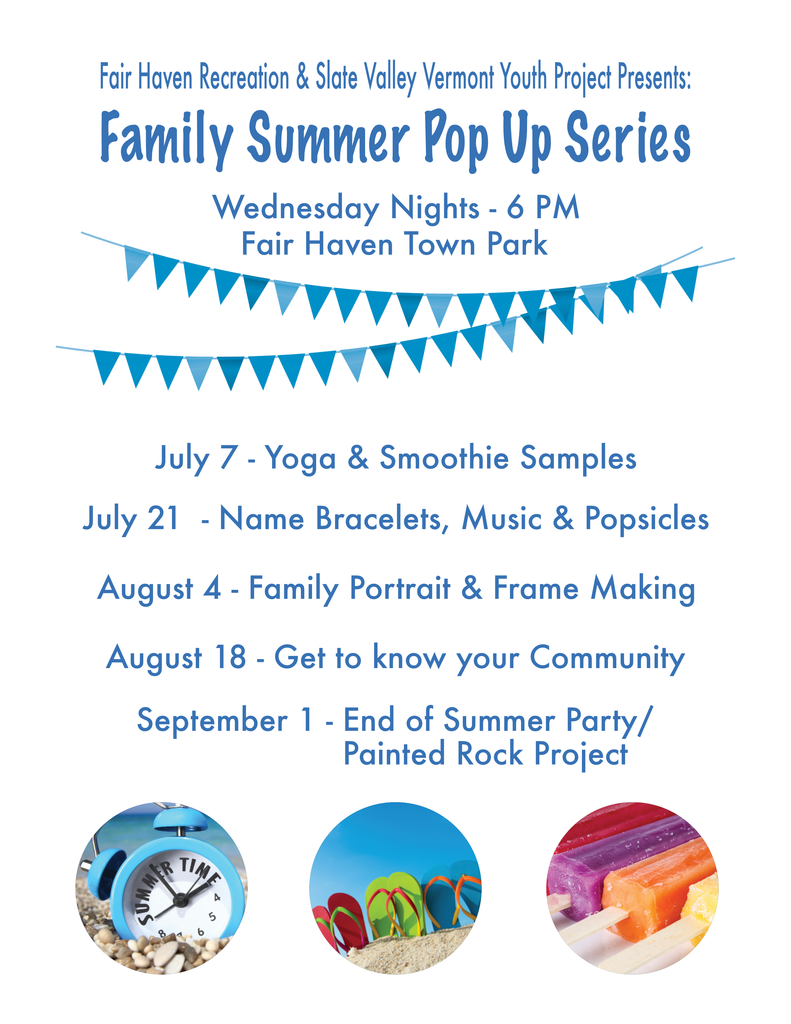 Dan sincerely deserves every complimentary remark he receives today for his tireless commitment to ARSU now Slate Valley spanning years of service. He was never an 8 to 5 guy but one who was there before and after especially if a job needed to be finished properly. Meticulous and thorough were always his guidelines and the ultimate goal for every task. No task was ever too small for Dan to ignore or to complete to satisfaction. Teamwork and loyalty were hallmarks of Dan's tenure. Dan willingly pulled his weight as a team member for all his schools. His work ethic clearly reflected the successes one finds when working collaboratively with co-workers and administrators. Dan motivated others with an energetic and invested attitude sparking a can do attitude. Dan set the bar and aspired to meet it each and every day. Dan enjoyed his work and articulated that daily in words and action. These attributes made Dan a prized catch for any school throughout his years in the district. Dedicated, thorough, self-motivated, knowledgeable and willing to give more than hundred percent each day. It was my pleasure to have Dan on the FHGS team. It was our good fortune to have him for the years we did. Dan, you can move into a much deserved retirement knowing you left a memorable impact on everyone you met because of the impeccable career you had. You left everything you touched in much better condition than it was before you arrived. Best wishes my friend, and Congratulations on a Stellar Career! WTC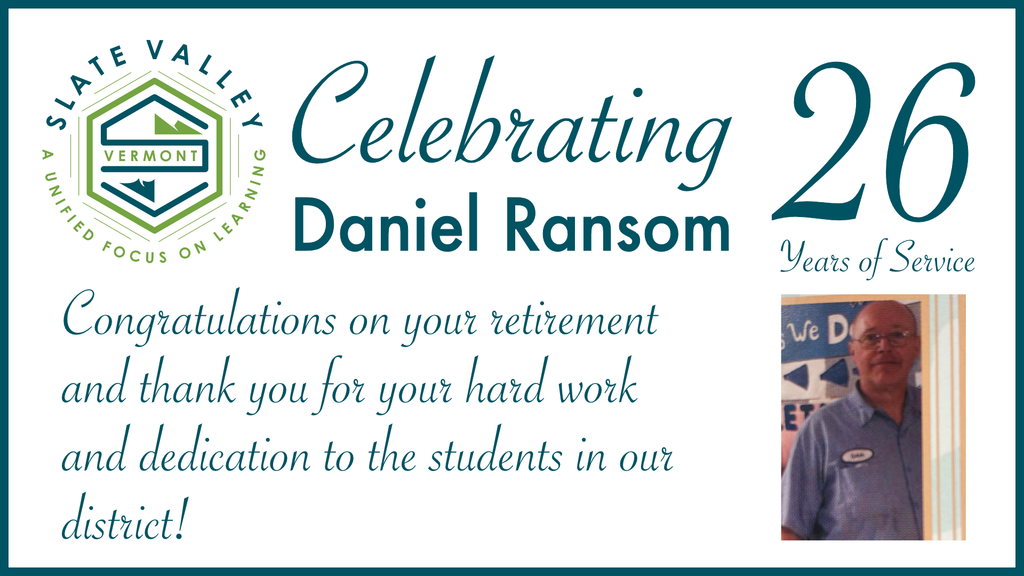 Shaun Ketcham worked here at Fair Haven Union High School for twenty years after his tenure at Mill River. Over the years, he taught Physical Science, Earth Science, Vermont Ecology, Biology, Honors Biology, Advanced Placement Biology, and Conceptual Chemistry. He was department chair for most of that time. Shaun is well respected and loved with students and staff alike. He will be missed by all. We wish him a happy retirement.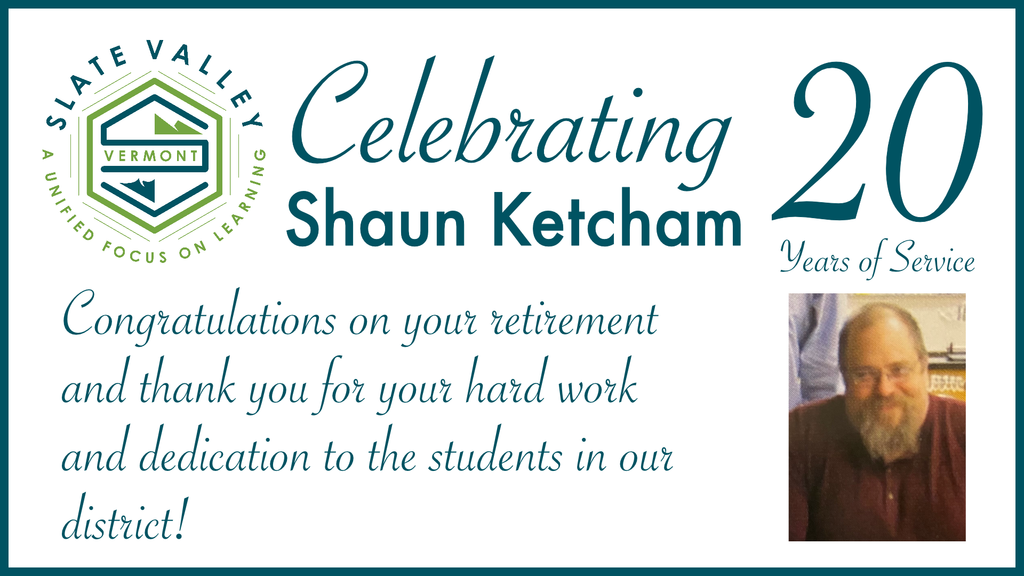 Curt Hier has been a member of the FHUHS faculty since the fall of 1986. A Middlebury College graduate, Curt was hired right out of school and began his career in the social studies department. In his tenure at the high school Curt has coached golf, debate team, and has been the student council advisor. When asked what his favorite moments were in his career, he stated that Speech and Debate was, "like a box of chocolates" and that some of his best and most proud moments as a teacher were watching students succeed in that course. A two-time teacher of the year (1991 and 2000) Curt went on to achieve his MA in education from Castleton University and has always been a vocal member of the department. Best known for his tall stature, endless jokes, and his love of diet Doctor Pepper, Curt has been a familiar face for classes upon classes of students. When reminiscing about the "old days" Curt remarked how much teaching has changed since the good old days of paper/pencil gradebooks of '86, and how even after all this time he will miss the school traditions of footballs games and hotdogs, Slaterbration, Winter Carnival, and seeing the special kids each class has to offer. Upon his retirement Curt plans to take part in some spring and fall golf tournaments, and enjoy time with his cat, Cornelius. When asked what it meant to be a teacher he said, "It's who I am, not what I do," and that he, "leaves his parking spot to Kyle Ruby and his MESSY room to Ashleigh Sanborn." Congratulations on your retirement Mr. Curt Hier!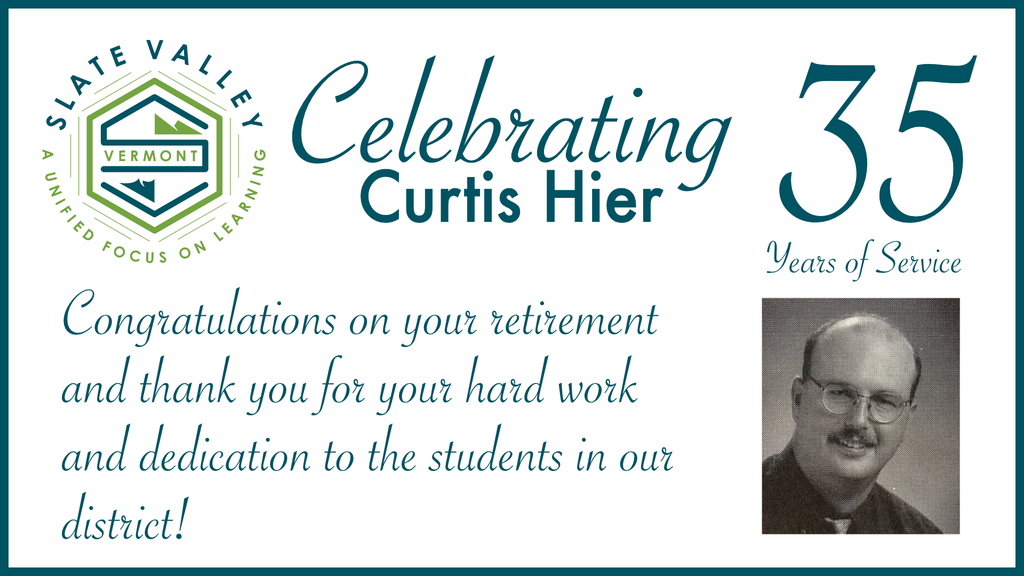 Skip Fenton was a dedicated musician, and music teacher. His passion for Jazz was infectious, and he encouraged his students to write their own music, and improvise during concerts. Skip was able to make connections with his students, and pushed each student to achieve their own musical goals. During his time at Castleton, Skip would frequently make his music room available to students who needed a quiet and safe space to be. Skip also led the marching band that would play on Memorial Day, and also provided music for assemblies and 8th grade graduations ceremonies. Thank you Skip for sharing your passion for music, and for our students!