Well done FHUHS Varsity Wrestling Team. 12/18 at Granville: Lincoln, Tristan and Colton took 1st place, Trey took 2nd place and Paityn took 3rd place. Overall the team took 3rd place. Congratulations to all.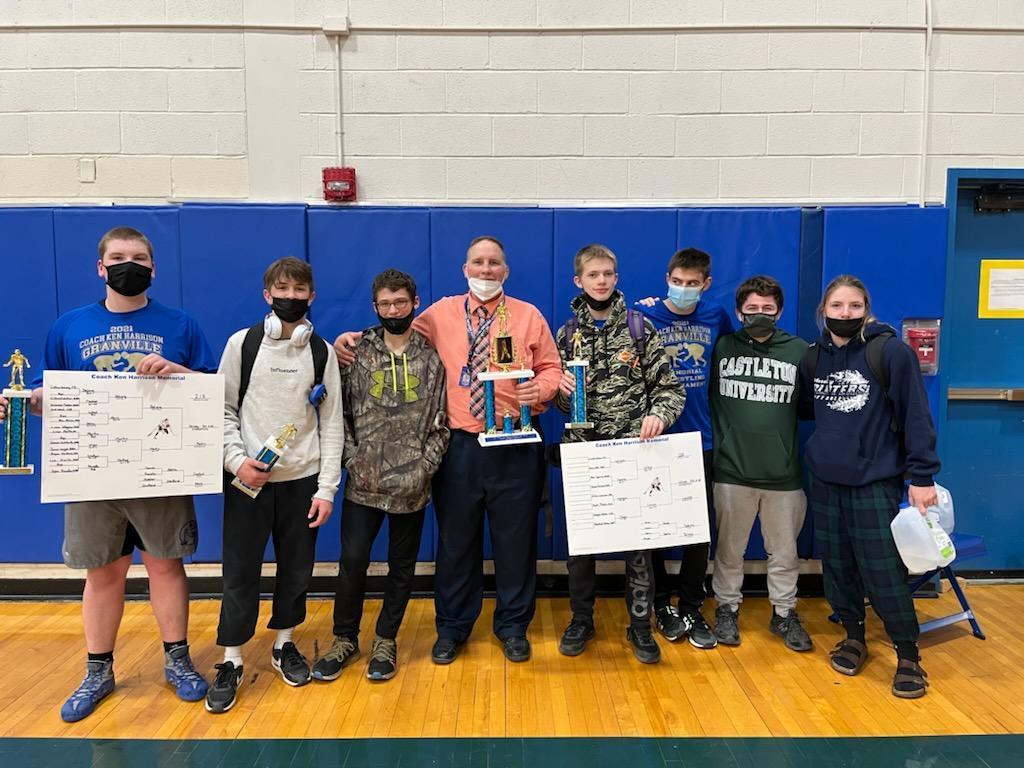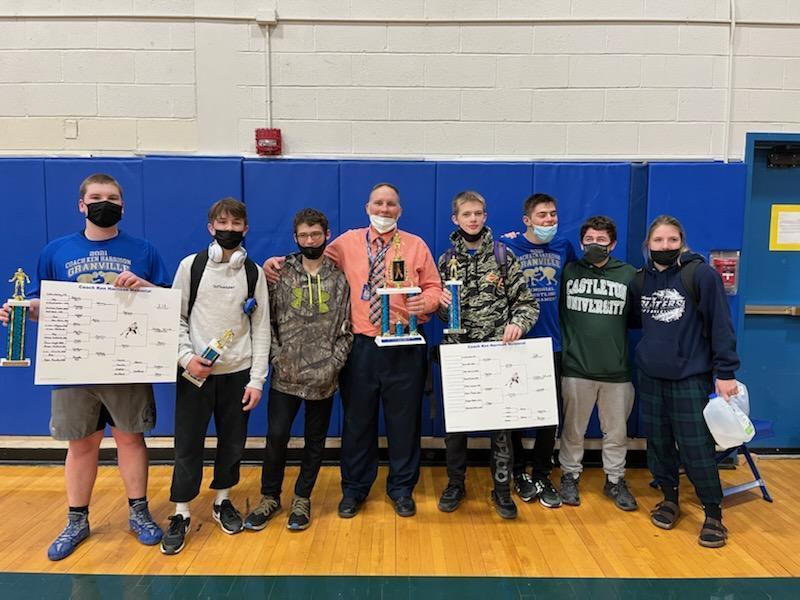 Some shots of our very own FHUHS JV G bball team. Go SLATERS!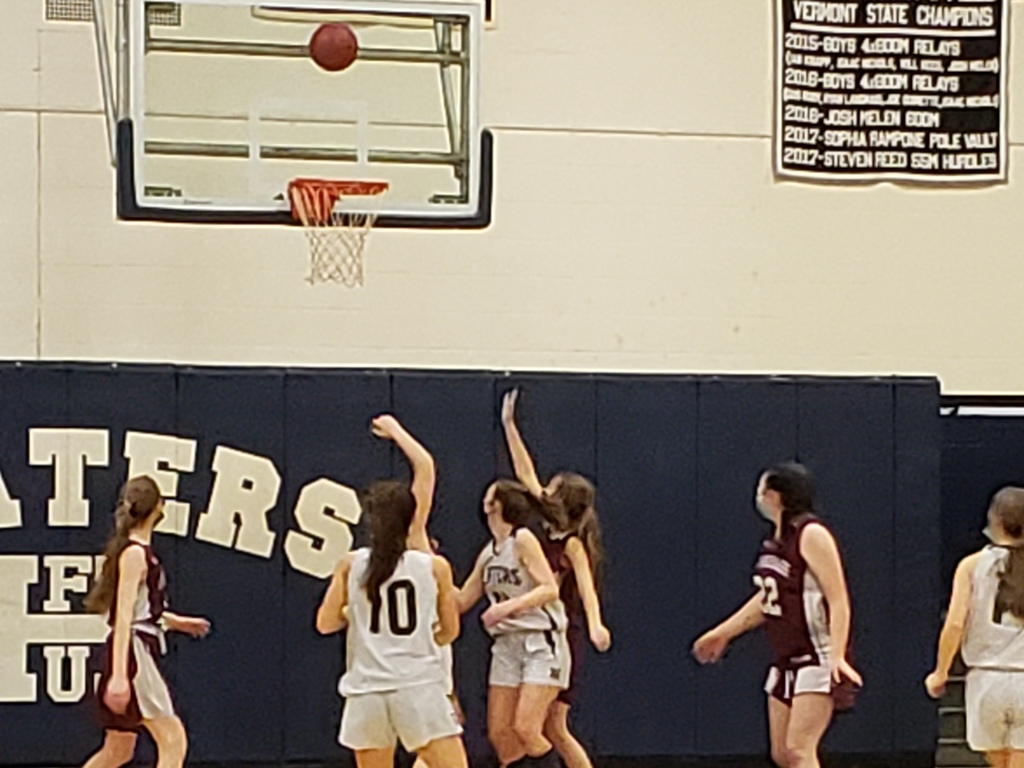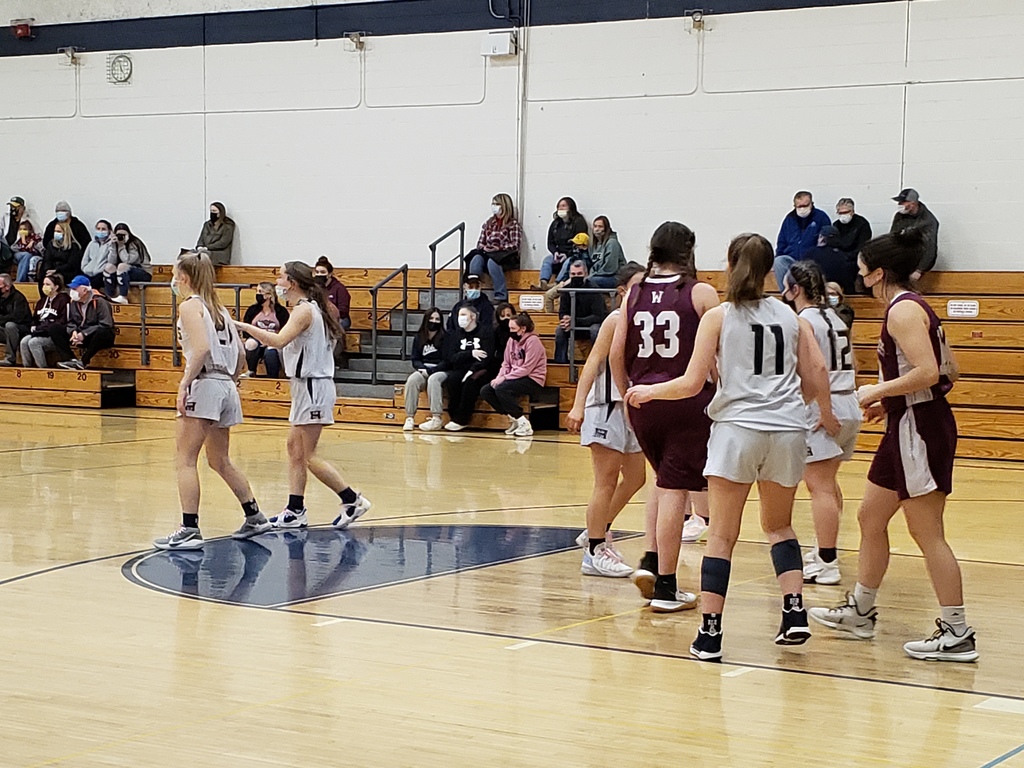 Good afternoon, The Governor's office has released information about sites where Vermonters can access free, take-home COVID-19 antigen test kits on December 23, 24, 28, 29 and 30. You can refer to the following page for more information:
https://bit.ly/3sAwQfE
.

Good morning, The weekly COVID update letter from Superintendent Olsen-Farrell is now available:
https://5il.co/13hsj

Today marks the return of the Slaters Boys Basketball teams to the hardwood at the Fair Haven Union High School as Woodstock comes to town for a doubleheader. The JV game is scheduled to tip off at 5:30 with the Varsity game getting underway at 7pm. So, Slater Nation, whether you make it here to FHUHS in-person or decide to join us virtually on our YouTube channel,
https://bit.ly/3yOr1wi
, make sure to come support the Slaters!

FHUHS V bowling team with the win - December 11th at Rutland Bowlerama.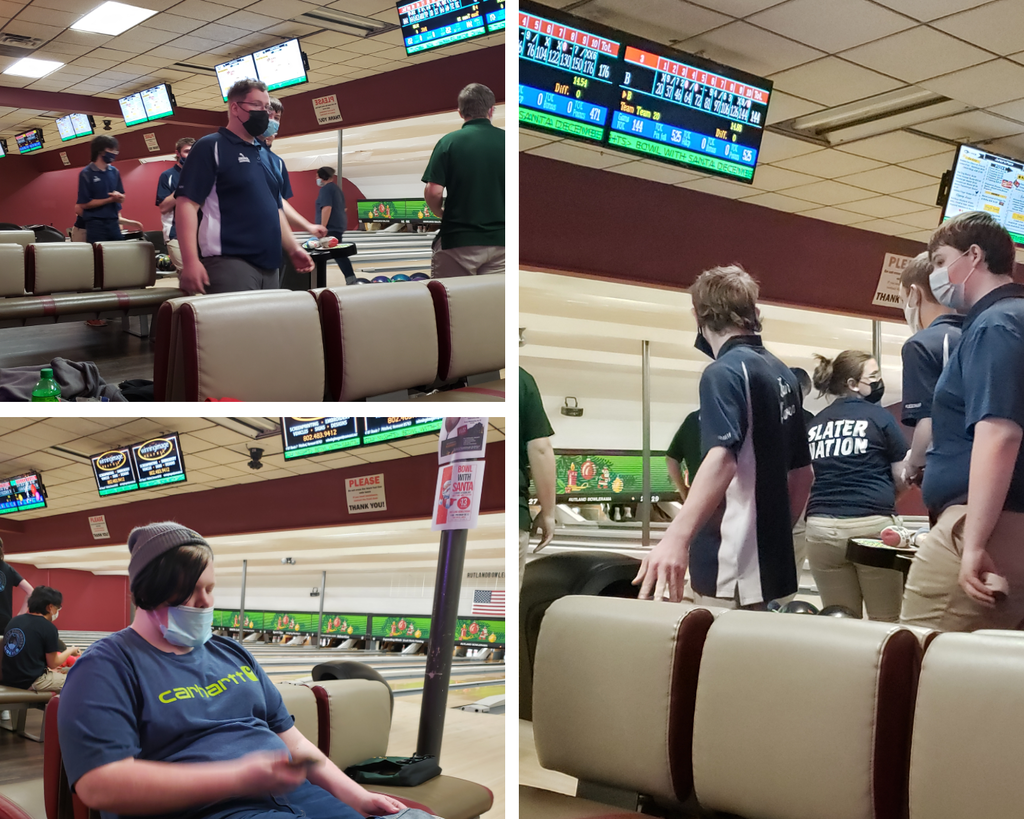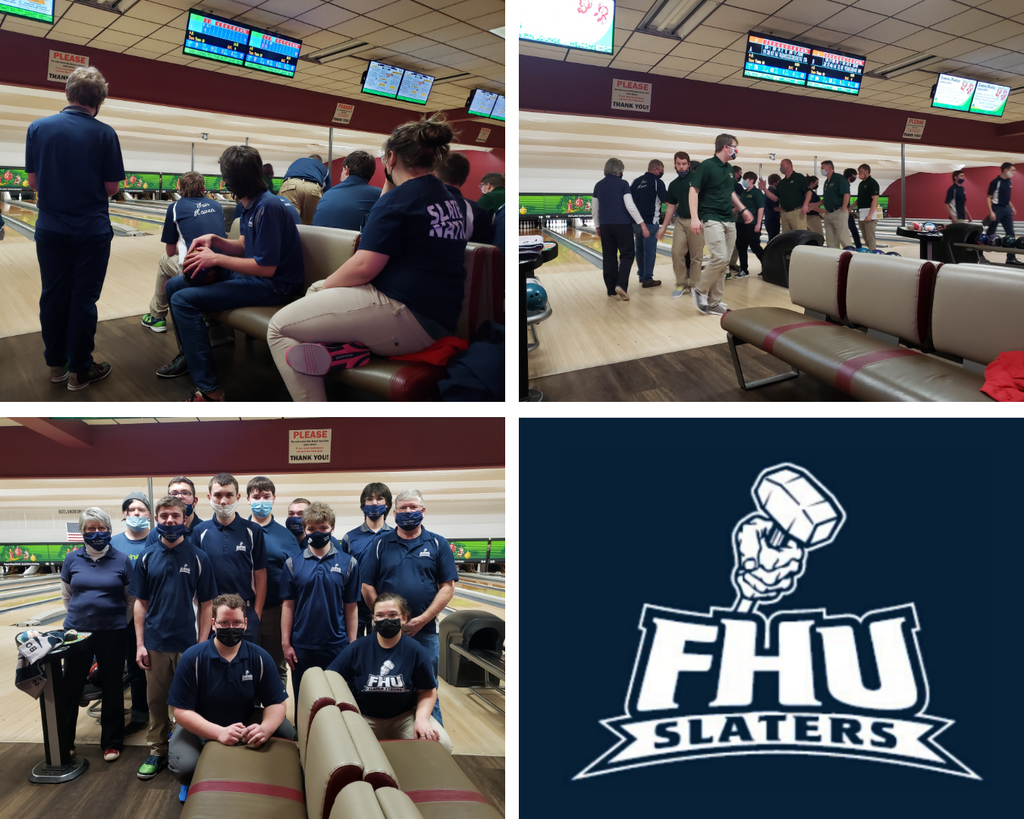 From last week: FHUHS V Girls Bball vs Otter Valley - Canfield Classic. FHUHS Girls with the win 60-33.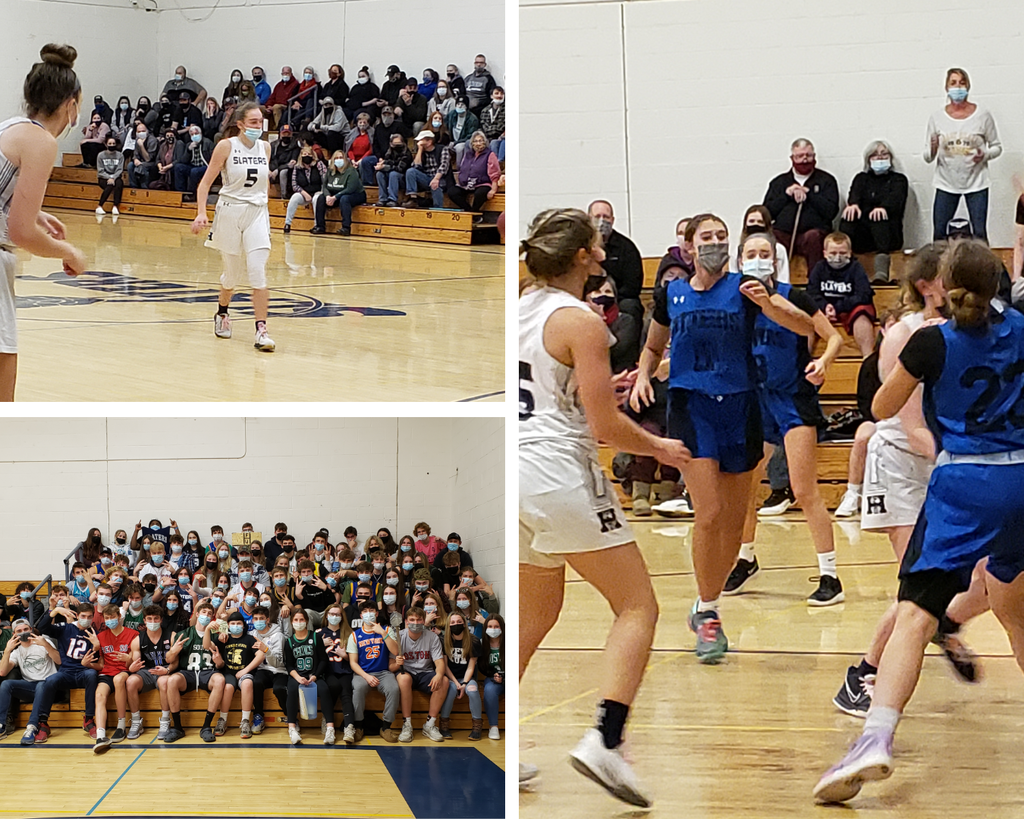 While the holidays are a joyful time, they can also be challenging for many. Here are some resources you may find helpful this holiday season: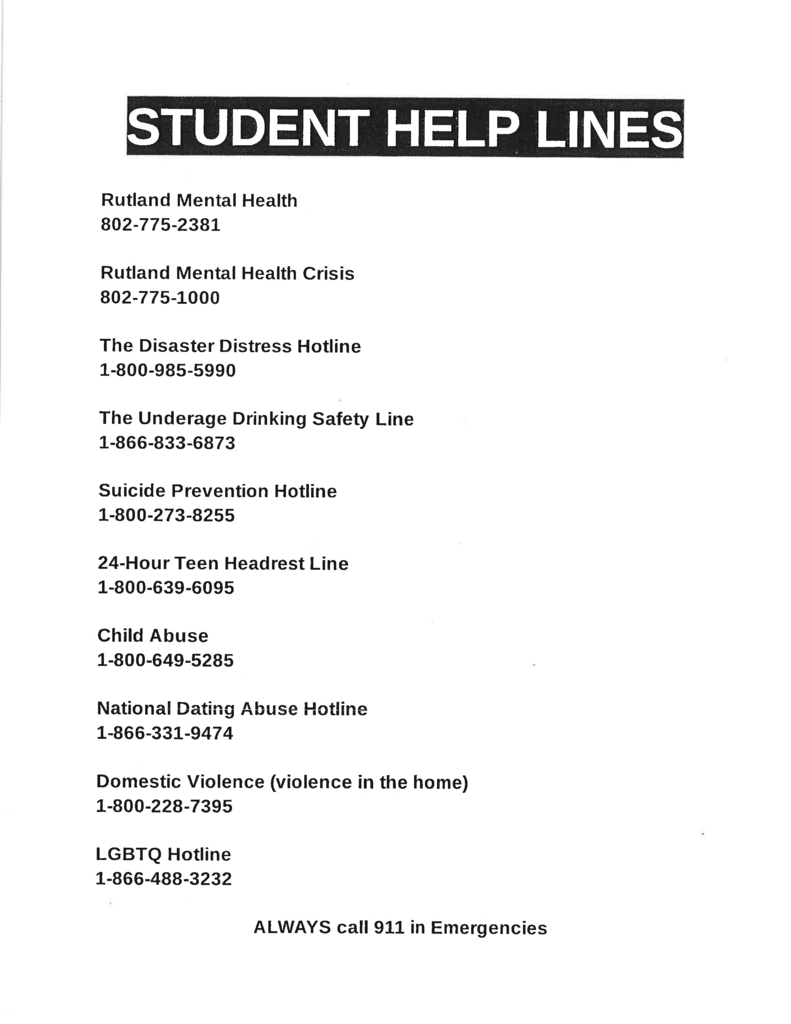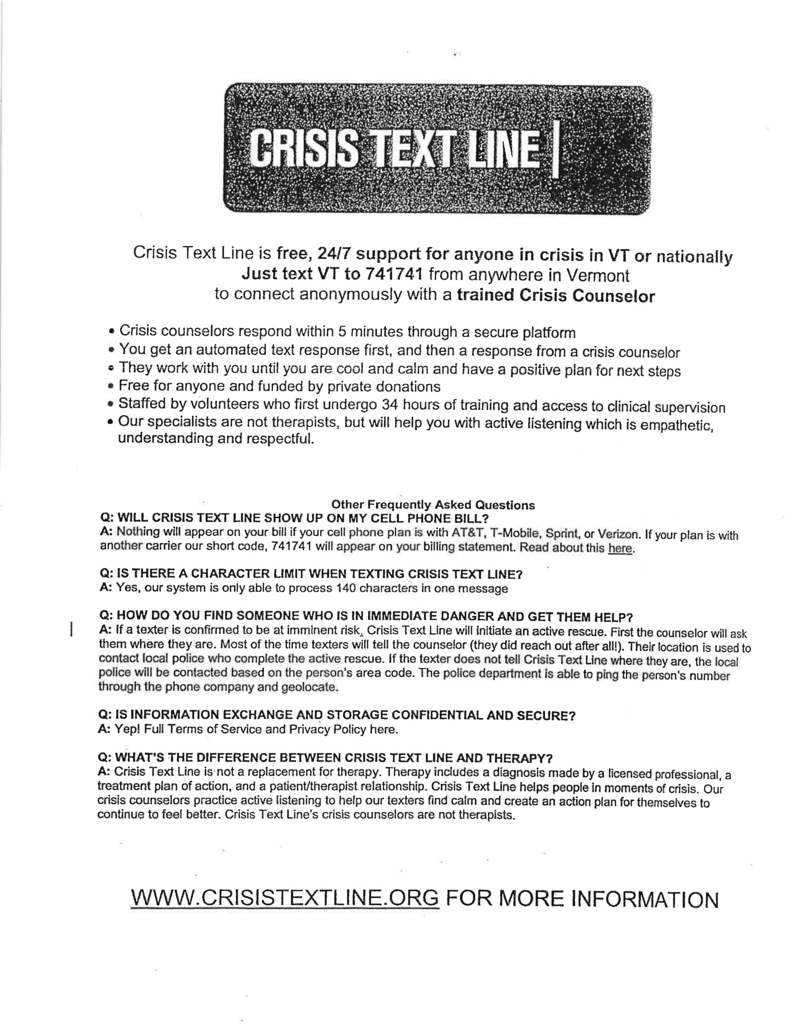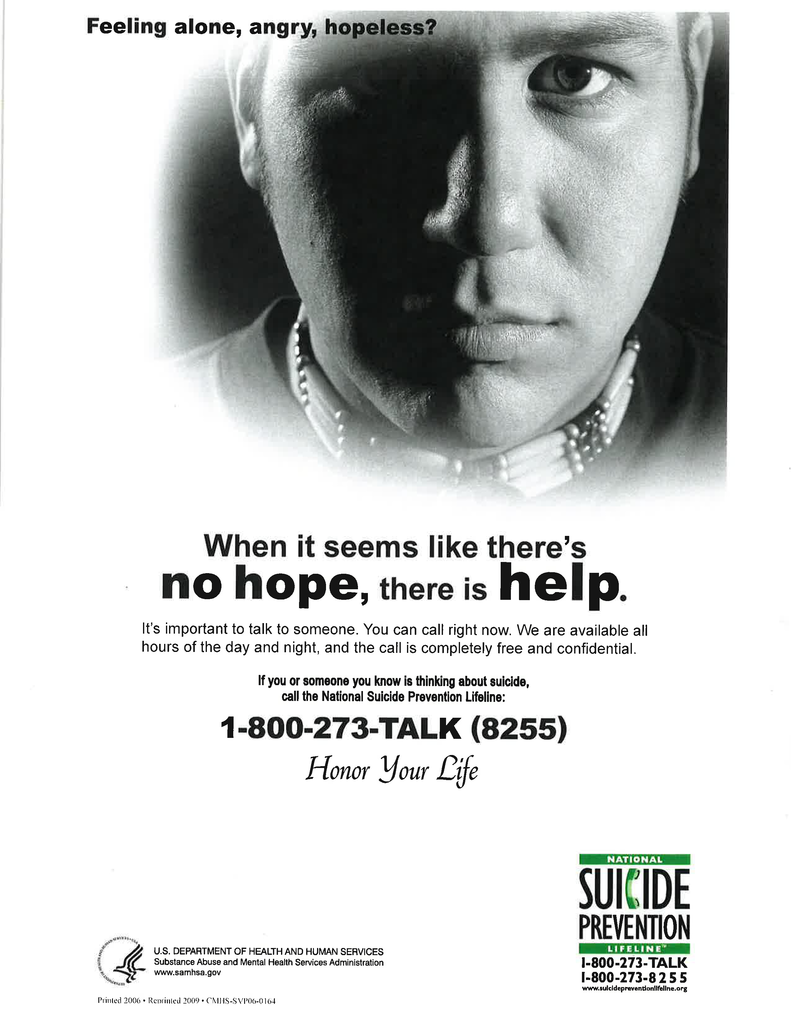 Tonight - December 20th You're invited to the Slate Valley Unified Union School District Board Meeting at 6:30 p.m. at Castleton Village School. This meeting will be in person or you may virtually connect by going to
https://meet.google.com/etm-zxwa-vgx
or join by phone (US) +1 617-675-4444 PIN: 771 605 109 0703# Tonight's Agenda:
https://5il.co/138oi
Previous Meeting Minutes:
https://5il.co/12xzp
Next Board Meeting: January 10, 2022, 6:30 p.m. at Fair Haven Union High School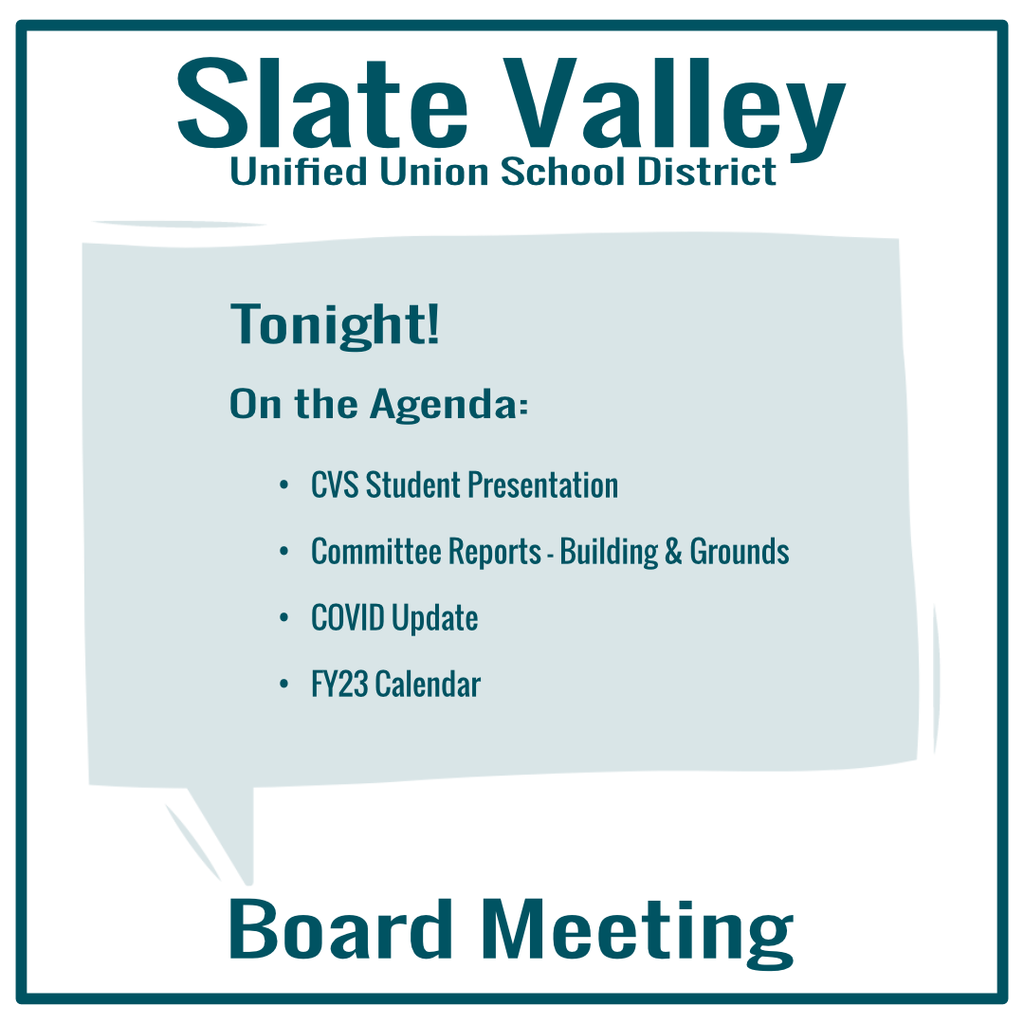 Good afternoon, Slater Nation! Please take a moment and read the below regarding start time changes for tomorrow's girls basketball games being held at FHUHS. Canfield Classic -- Saturday, December 18, 2021 --- Time Changes 100pm -- Burr Burton vs. Otter valley V Girls 230pm -- FHUHS vs. Mt Abe V Girls We have changed the times due to the Winter weather advisory. We hope you can all make the game and cheer on these great athletes. Both games will also be streamed on our YouTube channel here:
https://www.youtube.com/c/FHUHSAthletics

Good morning, The weekly COVID update letter from Superintendent Olsen-Farrell is now available:
https://5il.co/13bjr

December 16, 2021 Dear Slate Valley Staff and Families, On December 15, 2021, we were informed by the Agency of Education of non-credible (social media-based) school threats that alluded to some potential school violence taking place on December 17, 2021. At this time there are no credible threats in Vermont. These same types of social media threats have taken place in other states across the county. Furthermore, this is not an uncommon pattern that we have seen in other non-credible social media-based threats. The Vermont Intelligence Center and our state's law enforcement partners are aware of these non-credible threats and will continue to monitor these situations and provide updates to school leadership as needed. As you are aware we take any threat seriously and each incident is evaluated to determine its level of credibility. We have a very close relationship with local and state law enforcement and work with them to assess each situation. As always, please, if you see or hear anything that you are concerned about feel free to reach out. Safety is all of our jobs. Regards, Brooke Olsen-Farrell The full letter can be viewed here:
https://5il.co/139sf
Dear Students & Families, We are pleased to inform you that we will be offering another opportunity for Fair Haven Union High School students to take the SAT Exam during the 2021-22 school year. This SAT exam will be administered on the morning of Wednesday, March 23, 2022, and is available for any interested Juniors or Seniors. For more information about the SAT, please visit
https://collegereadiness.collegeboard.org/sat
. Please reach out to your school counselor with any questions about the exam itself, or how the exam relates to the college admissions process. If you would like to register for the SAT, students should stop by the Guidance Office and pick up a Registration Form. The form and payment are due to the Guidance Office by Wednesday, February 16, 2022. If you have any questions about exam fees or eligibility for reduced/waived fees, please contact your school counselor.

Tonight is the opening round of the Canfield Classic featuring four of our regions varsity girls basketball teams as Mount Abraham, Burr & Burton, Otter Valley, and our Fair Haven Slaters square off in what should be an exciting series of four games tonight and Saturday. If you're not able to make it here in person. we'll be streaming all four of the games on our YouTube channel here:
https://www.youtube.com/c/FHUHSAthletics

Facilitated by professors and staff connected to Castleton University's Innovation Lab, two FHUHS students recently designed journal covers in Adobe InDesign. They then used a Glowforge to score-in and engrave their designs. This project is part of a class where FHUHS students travel to the Innovation Lab at Castleton University to engage in design experiences. #InnovationLab #JenniferJones #time-lapse Videos:
https://bit.ly/3pXxVeS
,
https://bit.ly/3pSl4u8
No one should have to worry about having enough food. Hunger Free Vermont wants you to know that there are many food resources available to help you and your neighbors. Everyone needs a little help sometimes...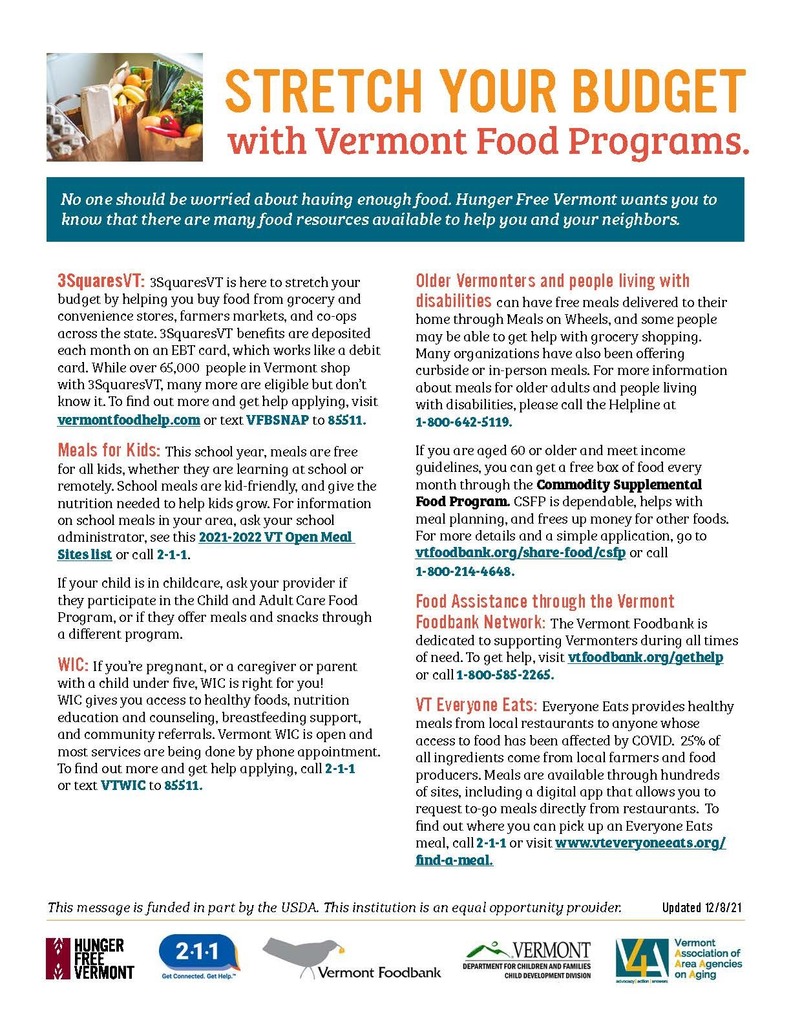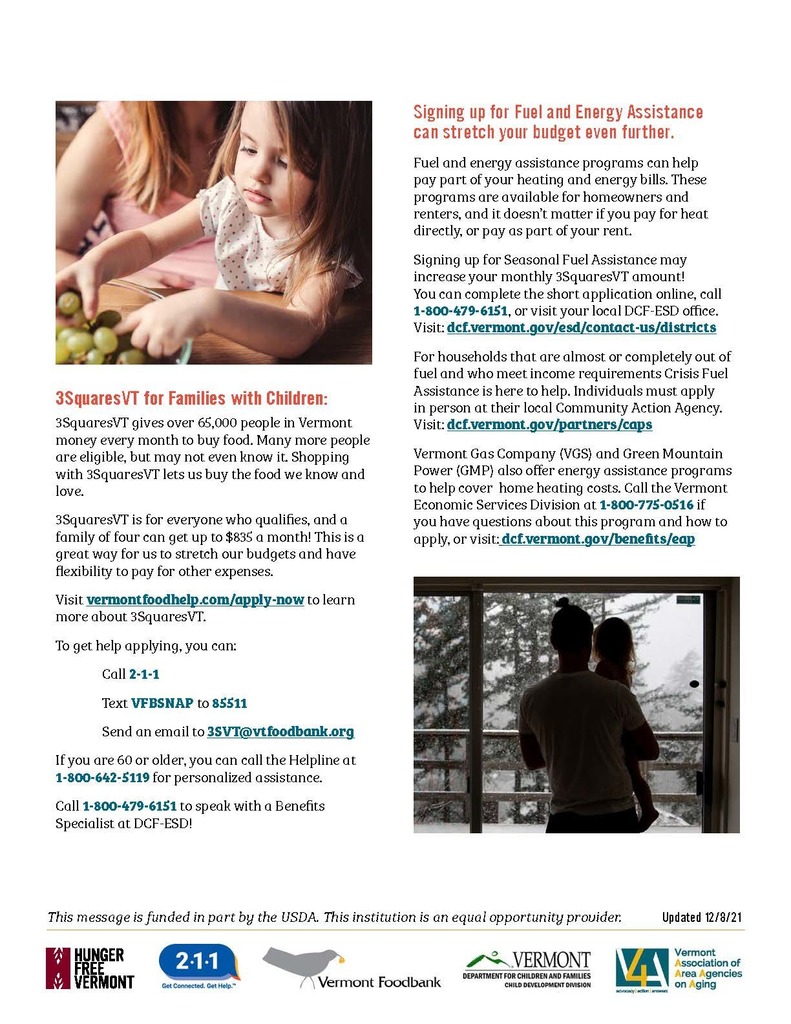 Please take a moment to check out EVERYONE EATS! provided by the Vermont Farmers Food Center in Rutland. Not sure if you qualify? Visit vermontfarmersfoodcenter.org/everyoneeats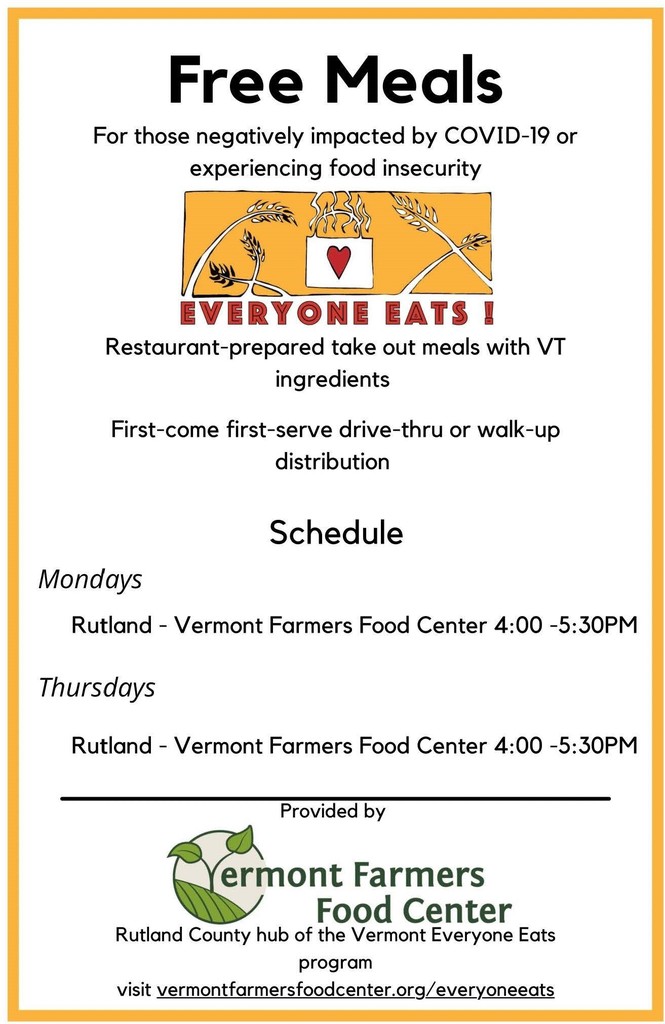 Just a quick reminder that today at 5:30 we'll be livestreaming the Slaters JV Girls basketball game as they take on Otter Valley. We look forward to welcoming all of Slater Nation to cheer on the team whether you're in-person or watching from home over on our YouTube channel,
https://www.youtube.com/c/FHUHSAthletics
.

FHUHS Wrestling News: 138lb Sr. Tristan Hyatt from Fair Haven received the Outstanding Wrestler of the Sandy Murray Early Bird Dual Meet Wrestling Event for all of the Wrestlers involved on Saturday 12/11/2021 and as a Team Fair Haven / Rutland had 3 wins and 1 loss on the weekend. The Wrestling Team will be participating in a SVL League Match at Burr Burton Academy this Wednesday and have a Tournament at Granville H.S. in NY on Saturday. Congratulations Tristan. Good luck to all Wrestlers in your upcoming matches!

Whether it's in-person or remotely over on our YouTube live stream,
https://bit.ly/31L94CZ
, be sure to join us this afternoon as the Girls JV basketball team takes on Whitehall with tip off scheduled for 5:30.